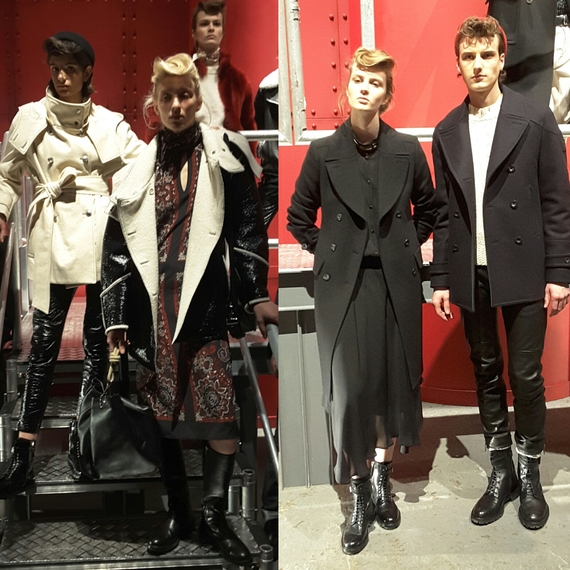 [All Photo's: Instagram/feed_my_fashion_ego]
Belstaff
Transitioning from summer to fall has never looked so good. Belstaff returns this season to headline London Fashion Week Men Autumn Winter 2017 inspired by nautical themes collection Jolly Roger. Tatoo emblems and the jolly roger appear across all men's and women's pieces.
The new collection is inspired by the history of dressing the British Navy as they presented their dual capsule collection. We observed waterproof waxed cotton and leather reinforce the stylish functionality of naval outerwear.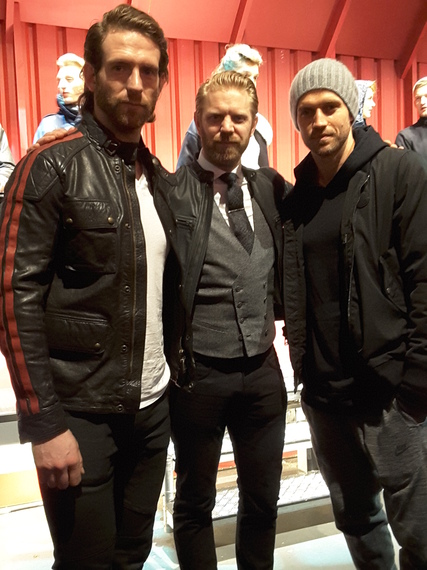 Men About Town: Craig McGinlay, Alistair Guy and Andrew Cooper attend the Belstaff AW17 Presentation during LFW Men's Fashion Week [Photo: Mehul Derodra ]
For this season the parker coat is the key piece for Autumn Winter 2017 and is available in a variety of styles across mens and womenswear.
The emphasis of the collection focuses on the protective weather parker is a contemporary revival of a jacket produced in the nineteen sixities.
The nautical inspired collection is both tribute and testament to the amazing clothing worn by the British Royal Navy during WWII.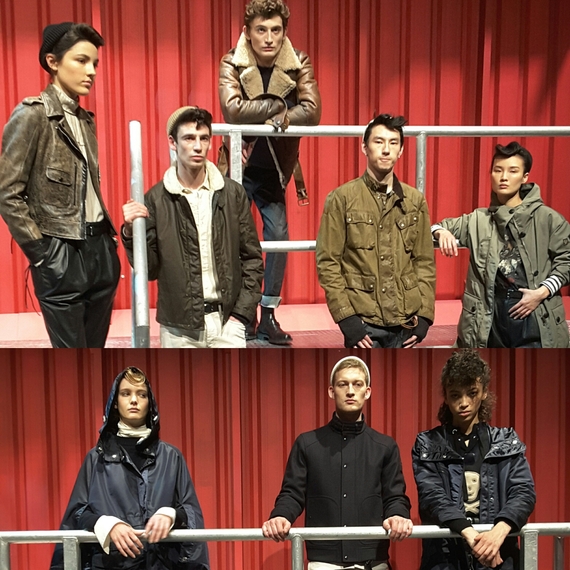 Models showcasing Belstaff Menswear and Womenswear Autumn Winter 2017 collection aboard the Jolly Roger set design at Ambikia P3 LFW Men's Fashion Week [Photo: instagram / feed_my_fashion_ego]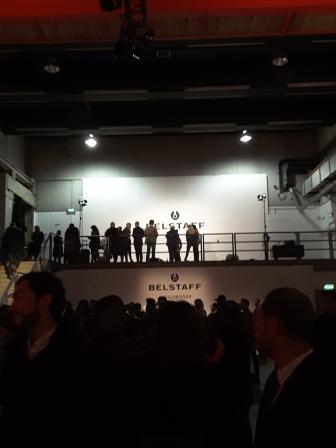 The Belstaff presentation pictured above at the Ambika P3 building Marylebone [Photo: instagram / feed_my_fashion_ego_ ]
Michiko Koshino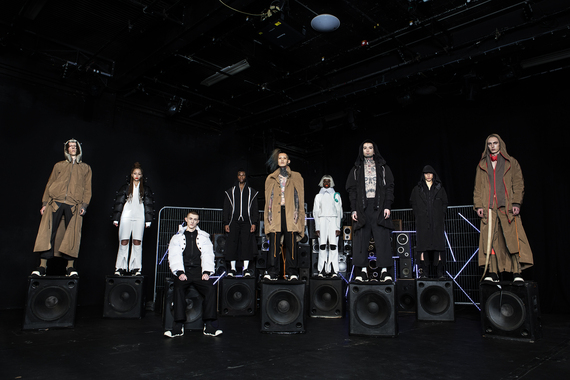 Models shown at the Michiko Koshino Autumn Winter 2017 Presentation at The ICA London Fashion Week Men [ Photo: instagram / michikokoshino ]
This season sees the return of clothing brand Michiko Koshino widely known for innovation, quality and iconic trend statement pieces remains at the forefront of forward thinking fashion.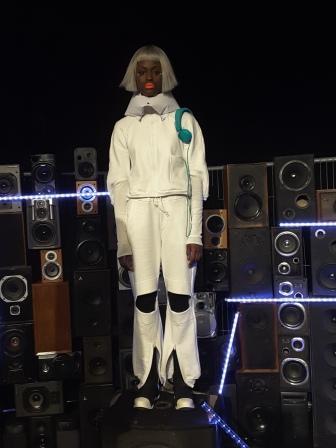 A model wears Michiko Koshino at the Autumn Winter 2017 presentation at LFW Men [Photo: instagram / feed_my_fashion_ego]
Not forgetting the established long cultural heritage with influencing London's nineties club scene. The unisex streetwear brand is also a favourite amongst the late David Bowie, Stella McCartney and Candy Ken attaining both cult and commercial success with lines Michiko London and Yen Jeans.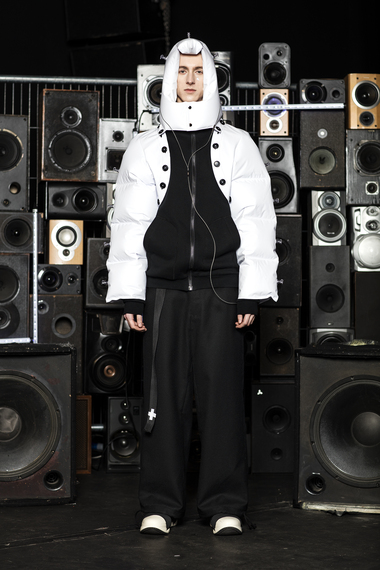 A model wears minimal Futuristic design Michiko Koshino Autumn Winter 2017 collection at LFW Men's Fashion Week at The ICA [Photo: instagram / michikokoshino ]
The AW17 collection explores Koshino's military roots is evident in the practical workwear pieces, innovative cuts and prints combine the labels house style of man made fabrics.
Designer Michiko Koshino Backstage at her Autumn Winter 2017 presentation during London Fashion Week Men wearing her inflatable designs subtly reinvented playfully nodding to nature with their exaggerated animalistic silhouettes [Photo: Instagram / feed_my_fashionego_ ]
Koshino is also the proud owner of her own Japanese Sushi Restaurant business in Queen's Park London Michiko Sushino. Today as well designing, Michiko has now married another fundamental part of her life to the Koshino brands in the form of a social dinning experience.
Fashion pioneer Michiko Koshino settled in Britain in the early 80's and went on to become one of the style influencers associated with the iconic London club scene.
E. Tautz
E. Tautz returns to London Fashion Week Men as their Autumn Winter 2017 collection by Creative Director Patrick Grant was inspired by a series of photographs taken by Peter Mitchell. These images portray the scarecrows in the countryside surrounding his native Leeds.
These birds of prey are delightful and wonderful to observe and their personalty transcends into each piece of clothing to rebel against the conventions of style. We saw wool coats and anoraks being worn on the catwalk paired with odd hats and old check shirts.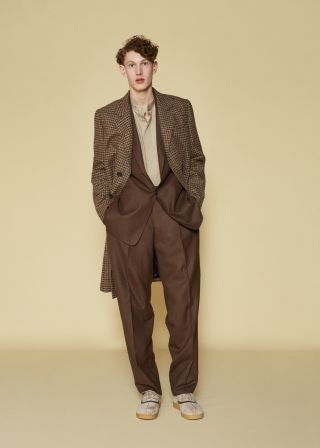 Trends this season high waisted trousers appear on the catwalk at E. Tautz [Photo: instagragram / etautz ]
Elongated proportions in clothing saw high waisted trousers return to the catwalk also seen at the Casely Hayford show.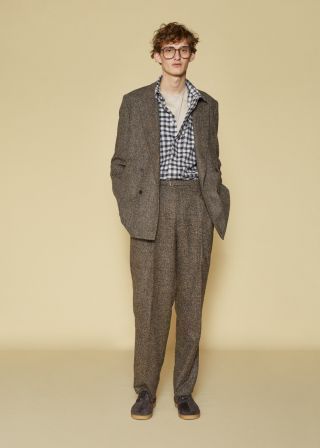 A model wears E. Tautz double breasted suit with gingham shirt and hight waisted trousers were a style statement this season on the catwalk [Photo: instagram / etautz ]
Well cut double breasted jackets and trouser combinations were sophisticated in calvary twill wool, gingham bonded wool and ocre wool flannel are sartorially defined luxury
SUBSCRIBE TO & FOLLOW UK STYLE