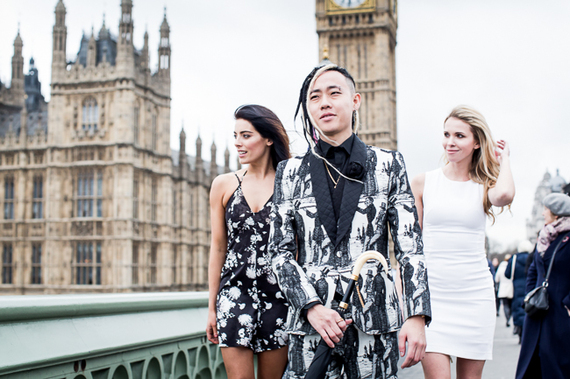 Mover and Shaker Jaye Foo Frontman Musician of Jaye Funk arrives in London pictured wearing Joshua Kane Bespoke. Photo Credit: Ben Moore
Singapore to London transplant Jaye Foo has toured his funk band in Japan and owns prohibition style bar in Singapore "The Music Parlour" has come to London to study music business and give to charity.
At only 25 years old, Jaye is now hosting a series of philanthropic London events including the first, which was most recently in private member's club Albert's in Kensington with a guest list of fashion designers, PR's, songwriters, singers and media influencers.
Jaye's future events and plans to raise awareness for charities in support of disadvantaged young kids will enable them to pursue careers in music, the arts and fashion.
He is also an apprentice tailor for Designer Joshua Kane Bespoke who has just launched a new flagship store in London's West End.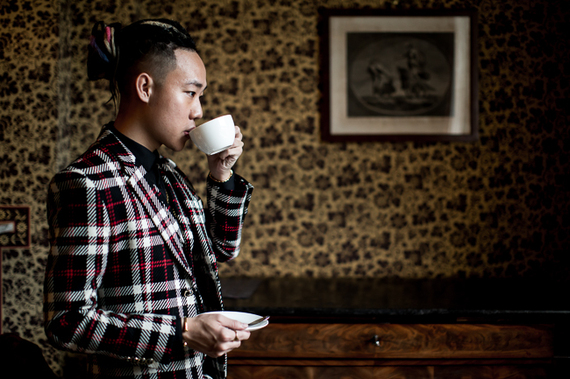 We met with Jaye Foo to discuss his latest work and life as a social media influencer. Photo Credit: Ben Moore
The musician parties at the No Vacancy Club LA, loves the delicious Singaporean Cuisine in his native country and keen to start up his own fashion label in the future. Here's what he had to share with us.....
Tell me a bit about yourself and where are you from?
JF: Born and raised in Singapore and then lived in Japan. Currently based in London. Spontaneous, passionate and lively.
Describe your upbringing, where did you study and has this helped influence your career path and define who you are today.
I studied in the local school for my primary school, and then I switched to an international school before going to an arts college. In Japan a Jazz Conservatory. I have studied visual arts, performing arts and music.
Have you always been interested in music and how did you get your first foot in the door of the music industry
I was always passionate in music ever since I started drums when I was 10. Then when I actually started making money was when I was paid to DJ private parties.
How long have you been in the music industry and when did you decide to form a band
I have been in the music industry since I was 15, then when I was 20 I was in the music industry in Japan.
I can see you have an interest in fashion working as a tailor previously. Tell me what it's like having had such a great mentorship experience and is it your intention to one day set up your own label and diversify your creative talent as an entrepreneur
I want to get into high fashion streetwear and perhaps have my own label one day.
You seem to have developed a successful career as a nightlife entrepreneur as the founder of Prohibition bar in Singapore and how early on in your life did you first get started in business.

I made my own website when I was 15 and freelanced.
Personal style is!......describe to me what you think makes great style
For me it would be expressing individuality
Where do you stay in London:
In Shoreditch
What's the first thing you do when back in Singapore
Eat delicious local Singaporean cuisine
What's your biggest extravagance
Travel is my greatest extravagance
Home is.........
Home is in people that I get on with
Favourite Club
No Vacancy
What's the last concert you went to?
Drake in Amsterdam
Favourite shopping destinations in the world
Japan
If you could give any advice to an inspiring musician starting out in the music industry what would it be

I would not stop practicing and play as many gigs as possible
I noticed you get involved with charity and has philanthropy enabled you to reach out to those less fortunate. How do you feel this impacts people's lives to create change?
It would enable them to express themselves through creative means and potentially make a career out of it and find a purpose.
Talk to me about your music
Right now it is interesting because I previously have DJed and been in bands, so now I want to bring in the electronic and live element together.
In business who do you admire and why, do you see these personal traits and qualities in yourself

Pharrell as I like the combination of style and music
What would you do if you could run for President in the 2020 USA elections?
I would be a liberal leader of the free world
What's on your playlist at the moment
Anderson Paak because he drums, raps and sings
SUBSCRIBE TO & FOLLOW UK DAILY BRIEF