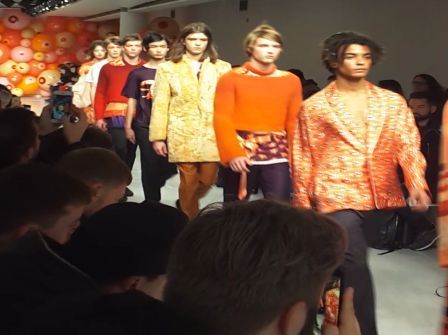 [All photo's instagram / feed_my_fashion_ego_ ]
Following on from last season Katie Eary brings sensual, sultry and sophisticated back to London catwalks this time for Autumn Winter 2017.
The fashion press could not wait for the new collection to be seen and watch it-girl Daisy Lowe open the show as the models sauntered down the catwalk wearing seventies pyjama tops in true boho style.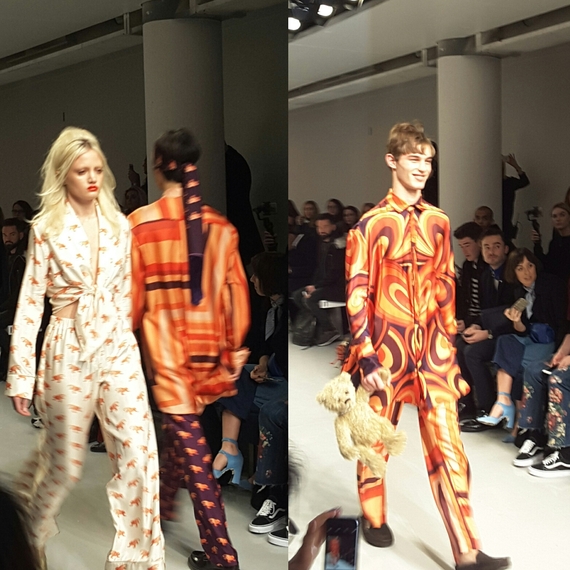 MGM-esque opulence of the seventies revival at Katie Eary Autumn Winter 2017 collection LFW Men's Fashion Week [Photo: instagram / feed_my_fashion_ego_ ]
After the success of last seasons resort collection the luxurious prints continues to resonate with Eary's signature pieces this time evoking the days of Paul Raymond's hedonist seventies. Think silk pjamas, smoking jackets and belly top tee's. A feeling of fine luxury in the collection includes cashmere, sheepskin,and ostrich feathers brought to life by abstract prints and kinks such lurid lizard graphics and peeping tom eyes.
Opulent prints on garments appear bold, vibrant and full of life evoking saucy soho seventies and pop culture. Playful elements of frog prints on garments and Teddy Bear Accessories evoked sweet innocence in the collection.
Menswear included cropped jumpers worn over shirts and printed full knee length jackets tied in at the waist in mixed shades incorporating warm tones of orange, tangerine, yellow, and deep purple.
Eary is in favour of showing both menswear and womenswear together on the catwalk as more designers are making a transition into introducing this concept during London Fashion Week.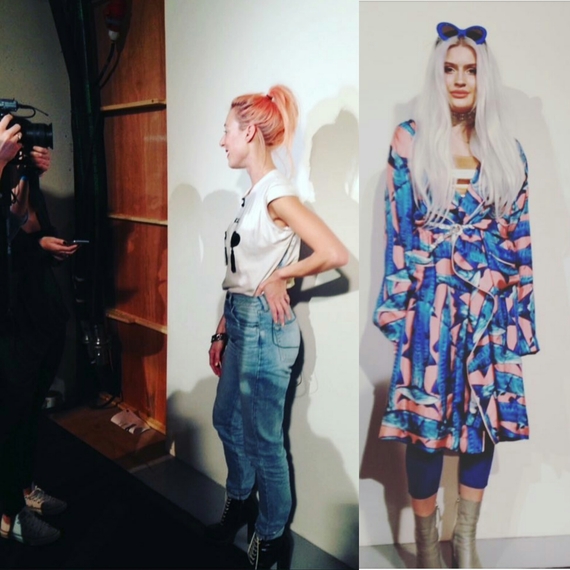 Designer Katie Eary (Left) Backstage at her Autumn Winter 2017 show at London Fashion Week. Singer Song Writer / DJ Cassyette (Right) wearing one of Eary's designs backstage after the show [Photo: feed_my_fashion_ego_ ]
The media attention surrounding Daisy Lowe's presence to open and close the Katie Eary show sparked excitement and was the perfect way to begin fashion week on a high note.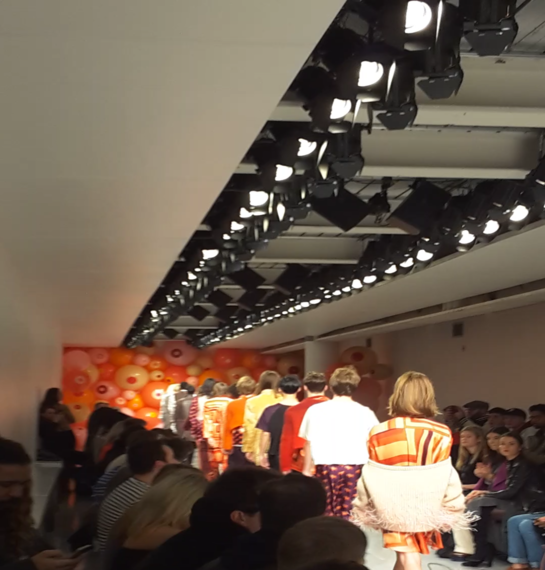 Final walk at Katie Eary Autumn Winter 2017 closing the show at London Fashion Week Men [Photo: instagram / feed_my_fashion_ego_ ]
SUBSCRIBE TO & FOLLOW UK STYLE