When it comes to promising new bands, eclectic musical vibes, and well-thought out lyrics - it seems that the unbelievably creative mind of Joshua Idehen knows no end. Joshua himself is a spoken word poet, founder of poetry and music website Poejazzi, founder of the highly acclaimed poetry collective A Poem Inbetween People and leader of Afro-Funk/Punk band Benin City. And if you thought that was enough to take up his time, he's only gone and joined another band!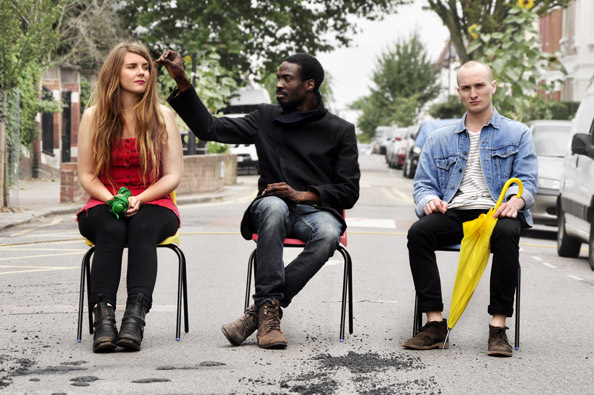 This group is called Maze Hill, who are the newest signing to independent record label WahWah45s, consist of producer Andy Highmore, vocalist Holly Bestic and of course singer/spoken word artist Joshua Idehen. The trio brings together their influences including Little Dragon, Beach House and Grizzly Bear with the production delivering reverbed out electronica, and more than a little soul and jazz elements.
Their debut single Long Haul is a beautiful laidback indie affair which focuses on Holly's wonderful airy atmospheric vocals layered with the lower register of Joshua's reverbed backing vocals/ad-libs enhancing the track to a higher level. Andy's production matches this perfectly with the use of drum machines meeting the electronic feel of the keyboards in a delightful juxtaposition with the very catchy hook. It's soulful, distinctive and just feels right. This is a truly strong statement of the band's attitude and approach right from the start.
On the B-Side of this single is a stunning track named I Can Be Your Light which is a tender and beautiful duet between Holly and Joshua with a deeper connotation going on under the surface than your average piano ballad.
And to truly round off the debut in style, there is a great beat remix from production masters LV which has already been causing a stir on XLR8R.
Get into the single below to understand the positive buss behind this exciting new band...
The single is out now and to whet your appetites for more material from Maze Hill; the group will be delivering their debut album in the first half of 2013 so look out for it!
To find out more information about Maze Hill, visit their website, or connect with them on Twitter and Facebook.