New York Fashion week, scheduled shows, scheduled guests and scheduled collections, so where's the fun in that? Well undoubtably there is some fun in schedule, drinking champagne and feeling a part of something big is always going to have it's appeal but being part of New York Fashion Week feels a little bit like hanging out with the popular kids at school! Attendance has become being part of the It Club, a perfect opportunity to socially brag to the world that you're one of the lucky ones to be let inside! Being invited provides the perfect opportunity for you to swan down the line, ticket in the air wearing it like a badge of honour to show all the little people that YOU are of ultimate importance! So whatever happened to the feeling that fashion is for everyone? Well it's a lie, it's not, it's for the few that can afford it or for the few that are considered "appropriate" enough to be given it!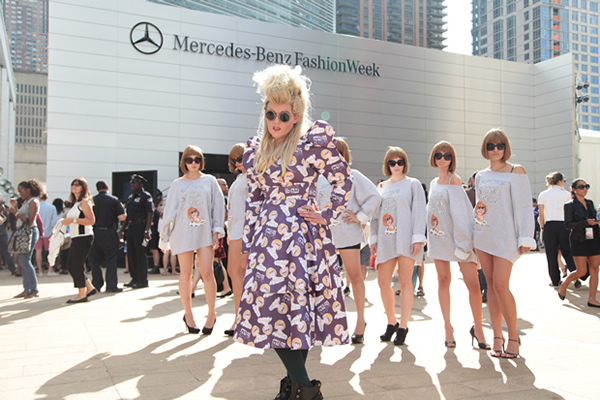 (Madame Allsorts and her Anna Wintour Flash Mob at New York Fashion Week)
So what the hell has this topic got to do with me? I'm a new designer, aren't I supposed to be aspiring to be a part of this world? I am surely supposed to be aspiring to be one of these high profile gatekeepers and wishing for a handful of golden tickets that invite the select few to see my first show? Well bollocks to that, in my eyes fashion should be available to anyone who can appreciate it that's why it was so important for me to put on my first fashion show in the street outside New York Fashion Week, so that anybody who felt the need could be a part of it! Creating a flash mob felt like the ideal opportunity to tackle the conformity of fashion that haunts me, I wanted to make a show, that most importantly didn't excluded anyone! If you want to be pedantic I suppose it did exclude anyone not outside the Lincoln Centre but motive was strong!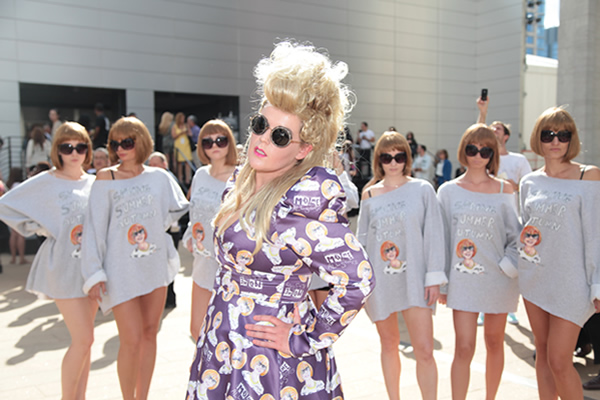 (Madame Allsorts and her Anna Wintour Flash Mob at New York Fashion Week)
A few months ago I was heavily introduced to the seasonality and the commerciality of the fashion industry. The need to create seasonally and the need to conform with what fashion editors such as Anna Wintour needed you to supply them with, and when. On pondering this, I came up with the concept for my Spring, Summer, Autumn, Wintour Sweatshirt, by replacing the word Winter with a sketch of Anna Wintour. It was this concept and design that I chose for my Flash Mob to showcase, and what better place than New York Fashion Week.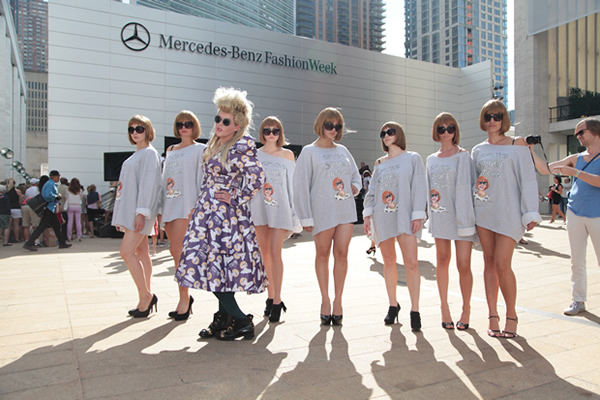 (Madame Allsorts and her Anna Wintour Flash Mob at New York Fashion Week)
Creating an Anna Wintour Flash Mob felt like the perfect way to capture the playfulness and the tongue in cheek spirit of my designs and the most authentic way to capture the spirit of myself as a designer! I also can't explain to you how much fun I had leading an army of Anna Wintour Clones around the Lincoln Centre! It does feel important to sometimes satisfy the maverick within me and to not loose the spirit of creativity.
To find out more about Madame Allsorts Spring, Summer Autumn Wintour Sweatshirt please visit www.madameallsorts.com