No wonder the word 'feminist' has become known as the "F" word, as there are so many bitches giving them a bad name! What I want to know is when did the excuse of feminism become a reason to hate other women, to hate men, to hate...well pretty much everything?
The notion of feminism is about equality and empowerment for everyone, regardless of sex or gender. This is a notion that seems virtually invisible within the entertainment industry, and the answer isn't to be a f*cking bitch about it! Remember, I'm a feminist, not a f*cking bitch!
After reading many of the adverse reactions to Robin Thicke's Blurred Lines video, one thing occurred to me: some people just don't seem to know why they are angry! Is it the nakedness? Is it the gyrating? Is it the lyrics? Most likely it's a combination of all three... But none of those are direct feminist issues. What is a feminist issue is the way both sexes are depicted - which is not at all equal! The video would be a different ball game if it was executed on a level playing field, but it's not. Robin Thicke is fully clothed - over-dressed, some may say - and ultimately he assumes the role as the Dog, and not the role of Bone. He is the diner, not the dinner. Ultimately, he isn't the piece of meat!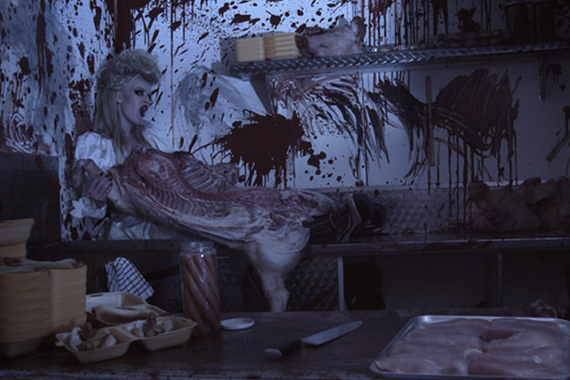 (Madame Allsorts toys with a large piece of meat in her music video Jack Shh)
The role of the meat in this video is assumed by Emily Ratajkowski (amongst others); a self-proclaimed feminist who feels empowered by her body. Don't get me wrong, a woman being empowered by their body is something to celebrate, as so few women are. But her actions and the way they are perceived aren't those of a feminist, simply because she's not Robin Thicke's equal. In reality she is depicted as his toy, and seeing images like this in the media is not conducive of promoting feminism of any kind. The bottom line is that women in the entertainment industry are not treated in the same way as men. It feels like there is a constant need for us to wear less and act sluttier; so much so that there's not much further to go! Miley may as well get her vagina out and be done with it! This feels like the real feminist issue - why is it ok for a man to perform fully clothed, with all eyes on their talent (or sometimes lack of it), when it's normal, perhaps even expected, for us women performers to have everything external on display?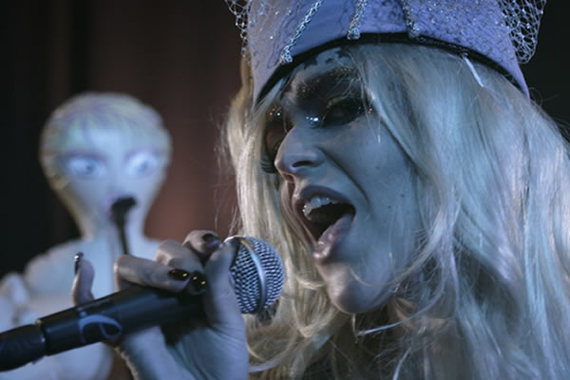 (Madame Allsorts Jack Shh music video tackles sexism with the entertainment industry)
So where did this virus come from, and who's responsible for this violent slut epidemic within the entertainment industry? It's easy to turn the word 'feminist' into femi-BITCH and hate on Emily Ratajkowski, but let's be honest; she's not single-handedly responsible for hindering the progression of female equality. There will be a whole team of writers, directors and record label executives that will have approved the Blurred Lines concept, and sadly, in many eyes it's accepted as being acceptable. Most performers like Emily Ratajkowski simply want to perform, some at all costs, but it would be really nice to see more roles for beautiful young women that come with a more respectful job description than just meat! The question is how do you stop this epidemic when the rewards appear so fruitful? Simply due to (near) nudity, Emily Ratajkowski has become a household name, and that's more than any performer could ask for! It's important not to be blinded by that though, as female performers need to unite and constantly provide alternatives - now wouldn't that be a true act of feminism? I feel passionate about young women growing up seeing that acting like a slut isn't the only way to see your ambitions realised.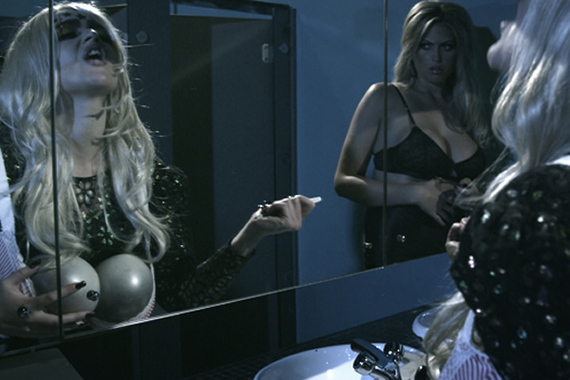 (Madame Allsorts tackling feminism in her Jack Shh music video)
This topic is something that is quite close to my heart, as I often find myself having to justify who I am and what I stand for as a performer and designer. I often catch the look in people's eyes, the confused glare that almost requires me to be instantly more naked and instantly dumber. It often feels that people don't know what to do with a woman unless she's subversively playing a sexual object, and this is a problem. I designed this t-shirt with the Blurred Lines video and Emily Ratajkowski in mind, as a constant reminder to try never to become meat, and as the ultimate feminist's t-shirt!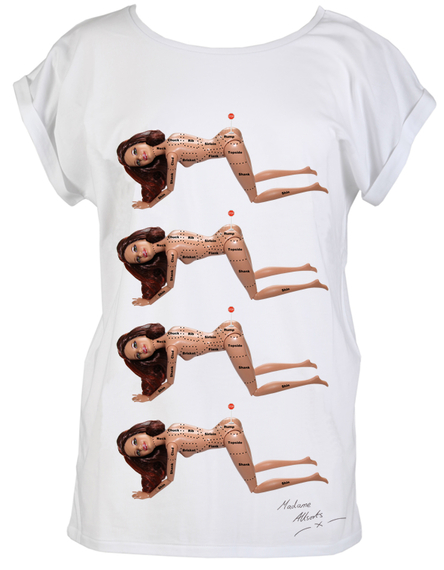 (Madame Allsorts Deferred Lines T-Shirt avaliable at www.madameallsorts.com)