Elegant, addictive and creative - Pinterest is a fresh social networking platform that brings the simplicity of Twitter to the world of design and photography.
Just when you thought the survival of the online fittest had whittled down the reigning social media champions to Marc Zuckerberg and Evan Williams, a new kid on the online block has been busy building users and earning glowing reviews. With just two years of development under its belt, small company Pinterest is making wave after wave on the entrepreneurial world wide web.
The internet is bursting with images, there are probably just as many photos as there are words - Pinterest lets you grab a passing picture and pin it to a virtual board, to share with others, or simply to inspire. Build up as many pin boards as you like and peruse the creative collections of other users - if you enjoy visual feasts, then be prepared to gorge yourself with this relatively young online innovation.
It may all sound like a twee passing fad, another bubble in the online ocean, but this media company has just reached 11.7 millions monthly unique users, passing the 10 million mark faster than any other standalone site in history. Since stepping into the social media ring in 2010, Pinterest is already taking on the heavyweight players.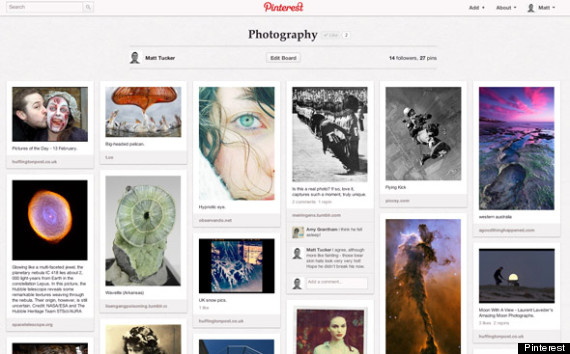 Using the handy 'Pin It' button, you can pin an online image to your board, with automatic link backs to the source. On The Huffington Post UK Picture Desk, thousands of pictures pass our eyes every day as we bring you the best images from around the world - Pinterest brings us welcome reassurance that all our blood, sweat, tears and creative energy lives on after an article is old and buried - crops and composites continue to thrive on virtual pin boards.
Huge sign-up statistics aside, Pinterest is more than a new trend in social networking; it reflects the changing current of media, as users move even further from print to digital. Despite rapid developments in the ease of e-book readers and the intuitive fluidity of the iPad, the gap between the printed page and the flickering screen is still ever-present. When you admire your favourite artwork first hand, like Escher's 'Hol en Bol' (below), there is a visual experience that can be only be attained when up close and personal, when you can see the scale of the canvas and the pencil strokes Escher used to create his unique mathematical optical illusion.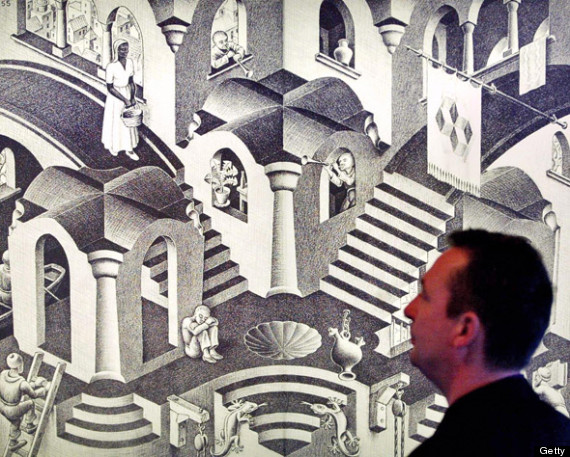 Yes, High Definition screens have true-to-life colours and million upon millions of pixels, but it doesn't let you uncurl a four-foot high poster and fix it to your bedroom wall. But Pinterest does go some way in addressing the gap - it is a quiet corner of the internet where you can decorate your virtual board with colours, photos, posters and drawings, expressing yourself through imagery, rather than witty tweets.
From a user experience, Pinterest is not perfect: not all images are pinnable, including Facebook ones (a clever block from the online giant?). Also, for those not inclined to expressing themselves visually, all the cleverness may feel a little redundant - as the Daily Mail cynically mused: Is Pinterest the Facebook For Women?
For new users, Pinterest is not intuitive, I suspect many will lose patience as they try to get their head around the vast numbers of pin boards available. The slightly bizarre requirement that you "request an invitation" to Pinterest before joining does make you feel special when you finally get access, but there seems no practical reason for the system.
A major target audience for Pinterest is those who work in the creative industries; one of my first contacts on the site was a set designer who was building a virtual mood board to gather inspiration for a new theatre production. But with record breaking numbers of users signing up, it looks like Pinterest has well and truly moved outside of any perceived creative clique and has officially gone mainstream.
If you're interested in following my pins, head here. Plus, HuffPost UK Tech are pinning away here.
The question is, with so much success, will Facebook be tempted to develop their own strikingly similar picture-pinning method? Time will tell. It's said imitation is the highest form of flattery, but it's not such a welcome complement in the hard-nosed world of online business.
For top Pinterest tips, take a look below:
Do you love lamp? Then pin lamp. The best Pinterest pages express the member's unique sense of style. If you're worried that yours isn't hot enough, don't. There's only one way to find out. Pin what you love, and with abandon. If you don't garner any followers, then at least you get a little happiness looking at your beautiful collection of images.

We're used to "liking" on Facebook, but the greater compliment on Pinterest is to re-pin. Every time you re-pin an image uploaded by someone else, they get a little notification reminding them how much people love their work.

If every Pinterest user just keep re-pinning the first images you see at the top of your feed, then every board would look the same. So do upload images you've shot yourself, or pin straight from your own website or blog. Even if you are a lady with a thousand cats.

Add the Pin It button to your toolbar. This makes pinning just as easy as saving a bookmark. Afterall, this is one of Pinterest's main points - to act as a visual bookmark for pictures you love.

Add keywords to your pin titles. If you're pinning a picture of hot pink pony skin shoes, then do write a few details, including the word shoes. Otherwise, how are other shoe-ists going to find your image when they search the site? The one below labelled :D won't nab any search results.

Followers have made the effort to find you and add you to their feed. So do "like" their pins from time to time. Re-pin them if they're your style.

If you sell something fabulous for a living, you can sell via Pinterest. Pin straight from your e-tail site, add a £ or $ sign to your description, and your image will be splashed with a price banner.

Make t'internet work for you. If you're into sharing, and really, if you're on Pinterest, of course you are, then connect your social networks. It will automatically tweet out or post your pins to your Facebook page.
Follow Matthew Tucker on Twitter: www.twitter.com/Matt_Tucker