.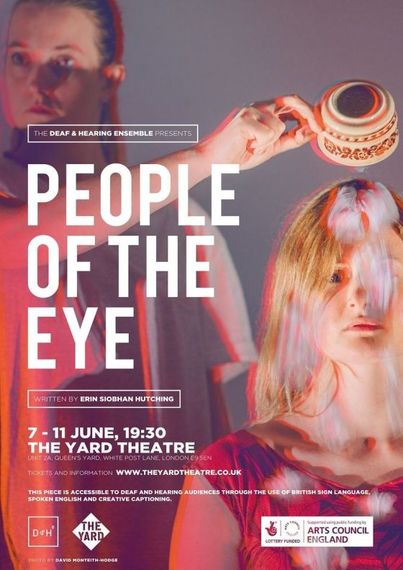 I have always felt that good theatre shows you a life you might never know while holding a mirror to your own experience. I want to leave a production having been taken somewhere I've never been feeling like I knew it anyway. The latest production by the Deaf and Hearing Ensemble, People Of The Eye, does this and much more.
The stage of The Yard in the hyper trendy Hackney Wick is a simple affair, of mostly white with a projected backdrop. Before the performance the audience witnesses a sweet home video that leads us to warm to the family captured in it's jerky frames. Once the piece begins we learn who the family was, that of the two protagonists played superbly by Erin Siobhan Hutching, who also wrote the piece, and Emily Howlett. The story tells the experience of growing up as a deaf child, to whom sound is an alien concept, and as their sibling. The clever use of video projection allows those on stage to jump from moment to moment in these lives with pace and wit. The thing that makes People Of The Eye so engaging is that wit. It's humour ensures that even when it tackles some difficult issues, it does so with a smile. We see the children's parents realisation there is something different about one of their kids, the diagnosis of hearing impairment and the battle to ensure the deaf child develops communication skills. We witness feeling excluded just because your way of knowing the world is different from others, and how hard those square pegs are pushed into round holes built by hearing people. Tough stuff but all approached in a warm humorous manner. The story unfolds and we experience the drawbacks and benefits of living in a world of sound that you are not that bothered about, and how this difference builds a life long bond between the two siblings as they grow before our eyes. In fact that's the most beautiful thing about this play. The love between the two characters is palpable and you leave the piece warmed by it while questioning why society is so fussed about difference.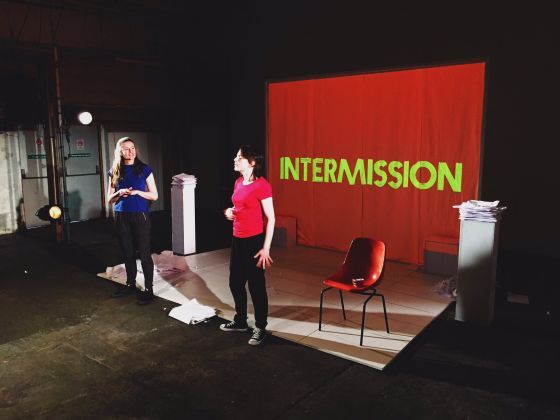 The video element becomes a third character in the piece, as it not only adds an exciting part of the stage set but it key to making the piece truly accessible. Access is written into the DNA of People Of The Eye, but as well as access to the work you were given access to the experience of deafness. The scenes around speech therapy cut me to the heart, highlighting how biased the medical approach to living with another relationship to sound is. A stunning scene with no words, revolving around vast piles of paper so beautifully opens a window onto how it feels to be excluded from the world around you by their use of another language. In this case spoken word instead of sign language. People Of The Eye left me desperate to take the basic sign language lesson within the piece further and whirling with memories of my childhood as a physically disabled child with a non-disabled brother.
This shared experience of difference is what touched me the most. It is far to easy too fall into a medical understanding of disability and deafness, to see each different medical condition as creating a different life but in truth this is not the reality. While each person may be different, for whatever reason that might be, we all share the feeling of otherness, of being outside the norm. As a child I could hear but walked rather badly yet I saw my own childhood mirrored in each scene. I expect that anyone who was outside the "norm" will too. I am positive that at a time when diversity has gripped the zeigeist of the media it is productions like People Of The Eye that need to get wider airing. Deaf and disabled people want to see their own lives in the entertainment they consume and it is only those with real personal experience of those lives that can create realistic portrayals. We want, and desperately need, less Me Before You and much more People Of The Eye. Not only will everyone of us benefit from this approach, but we will all actually understand that whatever our differences we are all the same and all wonderful in our own way.
Photos by permission - Deaf And Hearing Ensemble.
SUBSCRIBE AND FOLLOW
Get top stories and blog posts emailed to me each day. Newsletters may offer personalized content or advertisements.
Learn more