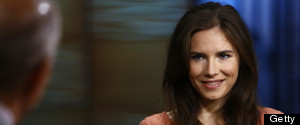 Considerable time, effort and money has gone into portraying Knox as a wholesome girl-next-door and Sollecito, a shy, well-behaved doctor's son. Stories that threaten to shatter these carefully constructed PR images are just brushed under the carpet.
Her "Foxy Knoxy" status is an irrelevance. No one has "failed" her. She has failed herself, and she fails the Kercher family each and every day she protests her innocence. There is only one female victim here - Meredith Kercher - and how dare Basile allow Knox's PR spin, and her own wilful ignorance, to conceal that.
The verdict on Amanda Knox's appeal draw a close to the four-year-long saga of "Foxy Knoxy" but has showed more prejudices against south European states.
Newspapers have a huge impact on the public; they have always been a primary source of information and now in this 21st century generation the news ha...
The Italian murder case that has gripped media in the UK, US and Italy for nearly half a decade took an incredible turn this week as Amanda Knox and Raffaele Sollecito, found guilty alongside Rudy Guede of killing Briton Meredith Kercher in 2007, had their convictions overturned. While the surreal scenes in and around the Perugia courthouse after the appeal decision resembled something out of a TV legal drama, replete with crowds hurling insults at lawyers and the stunned defendants being led through packs of suited men by the police, the chaotic case highlights again that miscarriages of justice do happen in the west, and that the lobby pressing for the resurrection of capital punishment in European nations should be held at bay.
One can only hope that out of such a tragedy and farcical legal proceedings will come a change in attitude and responsibility by all those involved who have, albeit perhaps inadvertently, added to the Kercher family's pain through their actions.
The investigation into the murder of Meredith Kercher was contaminated by many common psychological biases. First and foremost among these was a phenomenon that psychologists call "confirmation bias."
Amanda Knox is now a free woman and preparing to fly home. Now may be a good time to re-assess your virtual footprint. Amanda's case was widely cover...