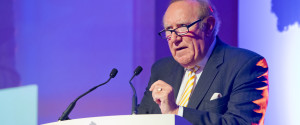 You might think the work of the Holocaust Educational Trust would have become less important, that we have never been more aware of the dangers of racism and discrimination, of the need for people to be treated properly and yet I will argue with you tonight, that it is now more important than ever, that it is actually needed more than it has been before, because the scourge of antisemitism, which is always with us, is changing. We need to meet it now on a broader front and it is growing not just more dangerous but more insidious. And if you accept that, you will accept that the Trust's work is far from done.
The BBC regularly views its public with contempt. It saddens me to say this in the year our cherished institution faces charter renewal. But we do it no favours by keeping silent.
Bennett should have explained that by definition the Citizen's Income 'costs' very little - it is in fact a rearrangement of existing benefits and tax allowances. The main difference is that it gives each citizen those benefits and allowances automatically, without making them jump through hoops and subjecting them to complex means testing.
To paraphrase Natalie in her interview - We don't protect freedom by legislating against it. However much we might think we can empower the thought police, you can't put handcuffs on an idea.
Politics is about running a country, or at least trying to get into Government in order to run a country. That is why there is one question that really matters if you are voting in Scotland's independence referendum. Can the Scottish Government be trusted to run a country? Providing an answer is no easy task. You could argue that the SNP has been in power since 2007 and the country has not imploded, but you could claim that total implosion is unlikely as it is propped up by the UK Government. Either way, the unprecedented nature of the debate makes judging on track records a potentially perilous endeavour.
For 27 years, Vanunu has been deprived of his liberty - for blowing the whistle, for telling the truth. It is a moral and geopolitical disgrace. We cannot afford, in good conscience, to forget the plight of Israel's Snowden. To quote the Northern Irish Nobel peace laureate Mairead Maguire: "We cannot be free while he is not free."
Watching Question Time is like witnessing a formerly smart child start to shove crayons up its nose. For something that was once intelligent, it scarcely resembles its past self. Rather than it being a show for serious debate, it has become theatre, designed to get cheap laughs and high viewing figures.
Cracking the walnut of news with our arse cheeks. Last week, I was stuck in an airport for four hours because the plane was...not safe. I only receiv...
Gibraltar is a play concerned with the military operation conducted on 6 March 1988 on Gibraltar
Could we see, one day, the anonymity of Twitter being cold-heartedly exploited in a planned and calculated way by an evil person? Could Twitter be used to incite physical violence and murder?
Dimbleby, Paxman, Marr, Snow, you're all total players but nobody else can hold a candle to Andrew Neil when it comes to force-feeding the establishment the medicine it most detests: ridicule. And what majestic jowls.