Don't get me wrong the Apple Watch launch hasn't passed me by. I've keenly followed the rumours, buildup and release of Apple's shiny new toy and there are many features that I ohh and ahh over.
Smart watches have been around for a couple of years but now that Apple are involved wearable tech is about to go mainstream. But this presents a major problem - it is currently perfectly legal to drive a car whilst using a smart watch, and yet they are more dangerous to use when driving than a handheld phone.
Why should the phone I have determine what car I own? Why am I having to pick this oven over another simply because it only offers functionality to an Android phone? It seems utterly ludicrous that the cost of making our lives easier is the absolute removal of choice.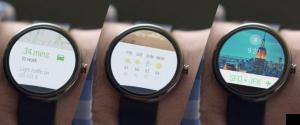 Apple, Samsung, Motorola and the other wearable manufacturers have been squaring up, tweaking their products and getting ready for a multi-year assault on the consumer market... I'm excited to start my project at Harvard in February, where I'm researching and writing a report on how the relationship between smartwatches and content companies is going to develop.
Low-cost 'feature' smartwatches, supporting only functions baked in by the manufacturer and lacking flashy designs, may be the push needed to help smartwatches go mainstream. Without it, the market might remain limp-wristed for a long time to come.