1. New EastEnders executive producer Sean O'Connor was responsible previously for such storylines as Kat and Zoe Slater's "You're not my mother!" 2...
We've seen Britain's most famous landlady battle cancer, negotiate her family's many feuds and cover up their crimes. She's taken - and dished out - a number of slaps, and watched her beloved pub burn to the ground, all while seeming far mightier than her 4'11" stance suggests she should be.
Spandau bassist Martin Kemp, fondly remembered by EastEnders fans as the dashing gangster Steve Owen last seen blown to bits in a car explosion before handing off an infant to nemesis Phil Mitchell, shared some tidbits in his hotel lobby a few hours before taking the Beacon Theatre stage.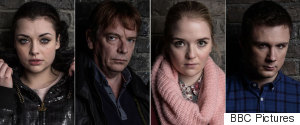 A year ago, in the months leading up to Lucy Beale's Good Friday death, chatter about Walford would have been met with a sigh, and probably an eye roll... Fast-forward to this week's anniversary celebrations and things couldn't be more different. But how have the BBC done it?