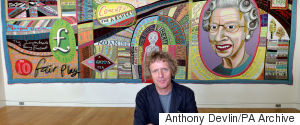 People want to know because learning about the creative process of artists and writers is fascinating, and it's also a reminder that all great work starts somewhere and changes and grows. That's why it's genuinely such a joy that Grayson Perry has published parts of his sketchbooks from throughout his career...
I used to wonder if I would ever have a life. In fact I wondered this every day for the five long, lonely years that I lived in a domestic abusive relationship. In the end I didn't care because I was so numb, but here I am now and I want to share with you a snippet of my story.
Not only does the prize shine a light on work that might otherwise not be read but, with its judges (not all of whom are Jewish), the award also brings together different perspectives of what being Jewish and Jewish interest mean in the UK in 2016.
Visual porn has somehow become synonymous with 'dirty' or 'bad' - many assume that because it is arousing, arousal is all porn has to offer. Erotica on the other hand is seen as more substantial - it can be wrapped up in a love story like 50 Shades of Grey, or deeply political like Erica Jong's Fear of Flying.
Sometimes it would be triggered by what was going on around me, what I was watching on TV or reading about and sometimes it was completely at random. For example, if a story about something bad came on the news (and let's face it a lot of the stories are) my mind would instantly race down this tunnel placing people I cared about in this exact situation.