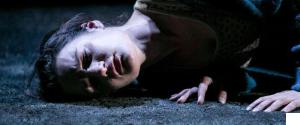 The second series of Happy Valley, where the relentlessly awesome Sarah Lancashire plays a police officer who has had the s*** beaten out of her but still sometimes goes out with a hat on, confirms Sally Wainwright as creating some of the most watchable TV we have.
I saw the site where it all started, and remember putting down my rucksack on the corner of 15th and Monroe. There's an old quote about that. And funnily enough it comes from Mockingbird
Tyne is a triple threat. Not only is she a talented novelist and Mayfair Historian, but she is also impeccably elegant whilst she was recently awarded Eccentric Thinker of The Year by the Eccentrics Club (patron HRH Prince Philip).
"This book does not claim to be a definitive survey of street art across the globe," Lou Chamberlain writes in the introduction to this book. "Rather, it is a snapshot that captures a moment in time..."
I'm not a fan of crime thrillers, at all, but having followed Dr. Magnanti's previous works I was very interested to read The Turning Tide. I wasn't disappointed. The story opens with the discovery of a body in the highlands and takes us on a journey, introducing us to some very rich and diverse characters along the way.