At home, I can go for a drink or have dinner on my own and it feels like the most empowering thing a woman can ever do. I haven't found my Felipe, but in a sense I don't want to right now. The end of my journey hasn't happened yet and I can't wait to find out what's waiting for me.
When you're feeling overwhelmed or sad, it's incredibly easy to feel alone in this, and think that no one else would ever understand. But what I've found in poetry is that these very emotions and confused states of being you thought were so unusual and isolated to you, have been in fact the topic of address for many decades, and probably will continue to be so.
Reverse Ferret is a book about Fleet Street. And the suspicious, somewhat sexually explicit death - was it murder? - of the editor of the mythical "Su...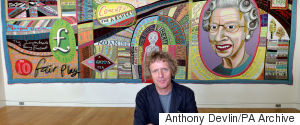 People want to know because learning about the creative process of artists and writers is fascinating, and it's also a reminder that all great work starts somewhere and changes and grows. That's why it's genuinely such a joy that Grayson Perry has published parts of his sketchbooks from throughout his career...
I used to wonder if I would ever have a life. In fact I wondered this every day for the five long, lonely years that I lived in a domestic abusive relationship. In the end I didn't care because I was so numb, but here I am now and I want to share with you a snippet of my story.