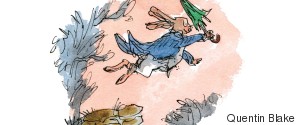 It must be about a year ago that I received the extraordinary letter from Francesca Dow, the director of Penguin/Random House children's books. It was about a story by Beatrix Potter which she had never illustrated. It was called The Tale of Kitty in Boots and included with the letter was a facsimile of the original manuscript. Would I like to illustrate it?
I think it's about time the mainstream bookshelves reflected the mix and diversity that actually exists in society. I think it's time that diverse characters, with racially diverse backgrounds and parentage and histories, finally found their way onto our contemporary bookshelves in the 'main' sections.
Though not without their own growing pains, the digital evolution has been kinder to films, TV, music and, naturally, video games. It is the book industry today that is looking to evolve its very offline habits and compete effectively for consumers' attention. 
In truth, they are everywhere, organising in all the corners of this world, with no other urge but to clip their cloth and colour their skin so they might mimic the superheroes they worship, as if they were real and living personages
A Boy Made of Blocks is a wonderful read and I imagine that this will be one of many outstanding novels by Keith Stuart. it opens a very clever insight into the transition of Boyhood to Manhood and offers a clear explanation to the reader the importance of both.