Machines are going to complement what we do and will liberate workers from repetitive or dangerous tasks. Of course it's true that some jobs are going to go away, but others will be created too. New jobs -- and entire new job categories --are going to emerge in the wake of this technological upheaval
For urban innovation, there is an opportunity for cities, companies and institutions to engage in new ways on this global stage, and to do even better in developing the products and services for the markets of tomorrow.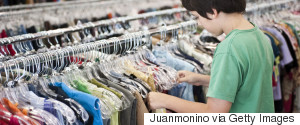 Scheduled for 2019, if the ban comes into effect it will have huge implications for textile collectors the world over, not to mention the much relied upon income that charities receive from this trade. With a looming ban on imported used textiles in the largest second-hand markets in the world, and the growing problem of textile waste, a different approach to textile recycling is needed.
Smart cities are also moving from concept to reality throughout central Europe, with metropolitan cities such as Amsterdam leading the way. The city deployed 40 projects ranging from smart parking, to the development of home energy storage for integration with a smart grid.
The innovations we already possess are multiple and together with ditching the car for a bicycle, rethinking our diets, getting involved in ecological projects around the planet, and altering shopping habits. Certainly, the best frontier in fighting climate change is taking place on home front, from the architecture through to our dinner plate
The pauses between the conversations. The transitions from one place to another. Scientists tell us that matter is mostly space. In the same way our diaries, even the most intense ones, are actually full of gaps. They may be micro-moments but taken together they add up to huge amounts of empty potential
So, physicians and other healthcare providers are beginning to ask how they can use gamification tools to help their patients engage in a healthy lifestyle, take their medications as directed, and even to feel less pain thanks to the distraction that a great game can create.
When we think about an ageing population and our neighbourhoods of the future, there are a couple of perspectives that spring to mind. Let's start with the essence - but one that is too easily forgotten - and that is the end-user him/or herself.
The human race has always had an insatiable appetite for exploration; despite the fact maps used to say "there be dragons here", or feared that we'd sail off the edge, heading over the horizon is in our nature. Jump 1000 years later and we're still doing it. Everywhere on the globe is now reachable by air travel, but with rising population comes rising demand...
We are at the start of a new and exciting technological era, quite possibly the next 'industrial revolution'. We cannot possibly predict exactly how our lives and our society will change over the next few years as a result of the development and application of IoT and AR technologies but history tells us that the change is likely to be revolutionary.
UK parents of children with depression have an exciting and opportunity to contribute to this project and to have a say about the treatment of depression. The project team have developed a Survey Monkey questionnaire that allows parents to give their opinions on the most important questions that come up when choosing care or treatment for depression, and we would love to hear your views.