Certainly, the upper house needs reform in a number of areas, not least to ensure that numbers do not balloon to ridiculous proportions.The answer though certainly does not lie in stripping away all that is good about the House of Lords and replacing it with a room full of elected, whippable Lords, who will do what their party tells them.
Our democracy, like every political system across the world, needs reform and will always need reform but before we throw the bathwater out, let's make doubly sure we've removed the baby first.
Calls for reform of the House of Lords have been heard even more loudly that normal in the last ten days and the reason is fairly obvious. The current set-up comes nowhere close to being right for the 21st Century.
These latest figures only serve to reinforce the need for a radical rethink about our second chamber, which is getting bigger and more expensive by the day. Surely it can't be  right that when politicians are talking about reducing the cost of politics, they're set to stuff the upper chamber with yet more party appointees?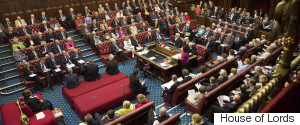 The previous difficulty of only being able to suspend a Member until the end of a Parliament has been overcome. Suspension is now available as a sanction for any length of time that the House considers appropriate. Furthermore, for the first time the House now has the power to expel permanently.
People in favour of reform can't agree and thus anti-reformists have the upper hand. Despite this, I still believe that we need to have open debates about the future of our electoral system and that we need to look in to ways of altering it to make it more representative. While simple country-wide PR is not the answer, neither is rejecting reform altogether.
We must elect the Lords. Not only is it embarrassingly undemocratic for the UK to retain an appointed legislature, but according to new research from Oxford University, it could also be corrupt.
Like many people, my instincts favour reform, but in practice I think that the House of Lords is currently doing a rather better job than the House of Commons, and any reforms are likely to weaken its ability to hold the Commons to account.
According to Cameron the Tories back those workers while Labour are busy backing the shirkers. If that's really true then based on definitions and the PM's logic, Milliband is backing the Conservative Party and Cameron is far more Red than Ed for supporting the labourers. These are the people running the country remember?
Even if people agree on what is wrong in the current arrangement, they never agree on a solution. But that is no argument for accepting, yet again, a status quo which combines a hereditary basis with one of patronage and which results in a chamber which is totally unrepresentative of the population for which it is legislating.
This week's debate by MPs on reform of the House of Lords has been framed as a test for the relationship between the Conservatives and the Liberal Democrats.
Were we starting from scratch – in the wake, say, of civil war or revolution – the issue would barely qualify for the label 'controversy'. Of course every legislator would be elected. Anybody who proposed an upper house containing appointees and a smattering of men whose great, great, great grandfathers had been royal courtiers would be dismissed out of hand.
House of Lords reform should not be an issue we should be debating on a progressive left website. Indeed, the House of Lords reform should not be an issue for discussion at all. Reforming one entire third of the executive to be composed of democratically elected representatives is not a progressive idea.
The Prime Minister's comment, on this morning's Today Programme, that there should be a referendum on House of Lords reform depressed me greatly.
Whenever I start a campaign I ask myself a simple question - what does this mean to the man in the pub? The sense that a cause must be made relevant to others is often somehow lost by the policy wonks of Westminster.