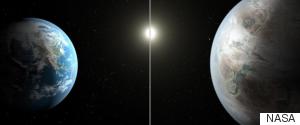 That's why Kepler 452 b has hit the headlines this week. It is the most Earthlike in these respects of the thousands of planets Kepler has identified. Its discovery strengthens the claim that there are literally billions of earth-like planets in our Milky Way galaxy with the size and temperature of our Earth.
Yes, I'm grateful that we have pioneers including Hawking and Milner who are willing to invest. But what about the more immediate problems on our doorstep that simply refuse to budge despite the policies, brain power, human capital and money we've thrown at it.
One of the things that has inspired me in 2014 has been scientific advancements beyond our atmosphere: from the continued work on the International Space Station, to Curiosity's exploits on Mars and Philea's historic bumpy landing on an asteroid - surely the stuff of science fiction!
By blindly insisting the creation myth of the Semitic tribes who became the Jewish people is fact - and telling children it is a valid alternative to the Big Bang - evangelical Christians are attributing to God the lack of imagination that cripples their own view of both humanity and the wider universe.
A stellar contradiction about the confused Sir Richard Branson was overlooked by both The Mail on Sunday ("Branson labeled 'outrageous' over attempts to distance himself from Friday's tragic crash", 2nd November) and Financial Times ("Brand it like Branson", 6th November).