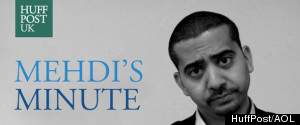 Do you want my alternative, semi-serious take on David Cameron's reshuffle of 'pale, stale males'; the demotion of Michael Gove to chief whip; and the 'high five' between Cameron and his nemesis, Jean Claude Juncker? Here's the political week in 60 seconds - before we take our summer break.
It is somewhat of a BIG coincidence that what little debate DRIP is receiving is taking place on one of the busiest political news days this year, if not this parliamentary term. It's another BIG coincidence that DRIP is being pushed through right before Parliament goes on holiday for six weeks... little chance of the time for debate being extended then. How unfortunate. A cynic might even suggest the government planned it that way.
It's essential that the Universal Credit project is moved along, and an unchanged ministerial team at the DWP in today's reshuffle shouldn't mean an unchanged approach to this reform. Universal Credit needs action and clarity now, not the obfuscation and posturing we've seen in recent months.
So long, Owen Paterson: we won't miss you. You were truly the worst environment secretary for decades. With that act to follow, Ms Truss might be tempted to relax; hardly much to live up to. That would be a mistake. There's already a lot in her in-tray and a lot of mess to clean up from her predecessor...
David Cameron yesterday had the enviable task of culling ministers, apparently to make way for fresh faces. Right-wing media predictably concentrated on the outrage of loyal long-standing Tories being driven out, rather than examining the toxicity that drove Cameron to take dramatic action at this stage of a parliament.
In a recent interview in the Observer, Vince Cable admitted that he '[doesn't] understand why people need a million quid a year'. He isn't the first to question the growing divide between rich and poor, but he is one of the most high-profile politicians to do so in recent times...
2013 was the year Pope Benedict XVI took the unusual decision of resigning from his post, much to the surprise of those who had followed his works across the world. This year, our own defender of the faith is also resigning - to an extent...
With 2014 marking the last full year before the next General Election, as well as the Scottish independence referendum and local and European elections, it might be fair to say our politicians are looking ahead with some trepidation at the year ahead.
There are plenty of MPs who will be glad to see the back of this week. For many, Sunday and Monday nights were spent sleepless, waiting by the phone for that call from Number 10 rewarding them for their obedience to the whips and flattering questions during PMQs, only to discover that they are still backbenchers, without so much as a PPS role...
After a week of reshuffles - both for David Cameron's cabinet and Ed Miliband's shadow cabinet - it appears the coalition haven't just changed personnel, they've relegated housing on the political agenda...
In a few hundred years time, people are going think Sinead O'Connor was the Samuel Pepys of our time. Either that, or they'll speculate as to what "letters" were, and why they apparently could not be closed...
Anyone hoping that this week's reshuffle would inject some much needed decisiveness into the UK's top transport and infrastructure projects will have been in for disappointment. The Department for Transport has had two of its ministers replaced, and the Shadow Transport team has had a change of leader...