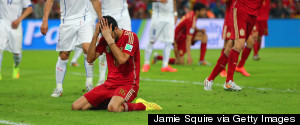 Iniesta has another World Cup in him, as do the central defensive pairing of Ramos and Pique. Much of the talent remains, but it just has to be remoulded into something new. Vicente del Bosque has been given the Spanish FA's full backing to continue as head coach and has two years to turn the ship around. Could he do it? Could Spain win Euro 2016? Don't bet against it just yet.
Atlético Madrid surpassed all expectations with their La Liga title win, while Manchester City, Juventus, PSG and Bayern Munich secured domestic glory. Nevertheless, of each champion in Europe's big five divisions, only Juventus have representatives in WhoScored's team of the season...
I'm very confident that if you were to put Ronaldo in the Barcelona squad he would have the same effect as Messi, albeit in his own style. But, and I'm sure people will disagree with this, if you put Messi in a Real Madrid shirt, would he have the same effect? My thought is no. In fact, I'd be willing to bet that he would be less effective at almost any other team in the world.
As Diego Simeone was thrust into the air by his players at the Estadio Santiago Bernabeu following Atlético Madrid's 2-1 Copa Del Rey win over rivals Real Madrid last May, it marked a remarkable turn in fortunes for Los Rojiblancos...
Those same voices who so revelled in the inevitability of the the San Marino rout take it in turns to lavish praise on Barca, to turn to the bottomless well of superlatives and dub them "the greatest side ever". But are they?
The upturn in Spanish football's fortunes has been little short of remarkable, having spent most of the '90s enviously watching the seemingly inexhaustible conveyor belt of talent playing in England and Italy. However, two crucial developments in recent weeks have threatened to plunge Spanish football, both at club level and internationally, into an unprecedented disaster.
It says a lot about the duopoly in Spanish football that the three point gap between Barcelona and Atlético is rarely mentioned, but that might change if Simeone ends the derby curse and Atleti finally beat Real Madrid. Now, for once, they have a chance of doing so.
When Benzema is on form, there is no doubt that Madrid play better. Higuaín may have a superior goals-to-game ratio but the Frenchman offers much more and, if given a run of games, will no doubt follow it with a run of goals.
Height is no doubt important in certain positions on the pitch, for goalkeepers, centre-backs and even holding midfielders. But when it comes to creative players, whose primary aim should be to use the ball well, analysis shows that height is about as relevant as taste in music.
Discounting their thrilling victory over Manchester City and the first half against Barcelona at the Bernabéu, Real Madrid have been far from their usual best this season, and produced a poor showing again in Vallecas. Fortunately for José Mourinho's side, Rayo Vallecano were generous opponents.
Before Barcelona beat Getafe 4-1 away from home last Saturday, Cesc Fabgregas said it would be a difficult game "because Getafe's fans always put pressure on us". Players flattering opposition supporters is nothing new, but Fabregas was simply not telling the truth: Getafe's fans make hardly any noise at all, for the simple reason that they seldom turn up.
It is difficult to predict if the league will reach a resolution with the clubs before the season starts. What is certain is that the feeling of euphoria surrounding football in Spain when Iker Casillas lifted the European Championship trophy last month is now a distant memory.