I can't help wonder if the whole premise of a fancily produced show set yearly on the other side of the world is all that necessary, when right on our doorstep is: 'I'm a Toddler Get Me Out of Here... no don't actually, I've changed my mind. No Mummy, I not want to get out of here! I do! I don't! Give me a biscuit!' (It's a working title)...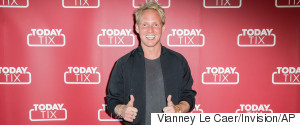 Children and young people's mental health isn't exactly a sexy subject but I think its such an important cause that I am proud to front YoungMinds new campaign in association with fundraising platform Raffity. YoungMinds is the only children and young people's mental health charity.
All the signals were there that he could be the man to break the curse of the male X Factor winner, and succeed where the likes of Steve Brookstein, Joe McElderry, Matt Cardle and James Arthur had failed before him. But after Ben announced the first single to be taken from his album Second Hand Heart, things seemed to go downhill pretty quickly, as it became clear that he maybe wasn't his label's top priority.
It was an interesting week for many reasons, not least of which was that Tess had finally cracked and murdered her stylist. We knew this because she wore a rather lovely dress and her hair looked nice.
Tonight Siralanlordsugar challenged both teams - back to boys versus girls, yawn - to create and market a brand new shampoo. And not just any old shampoo. One with a unique ingredient - cactus seed oil. I shall refrain from making any reference to it being suitable for a bunch of pricks.
PROMOTED BY HEIDI_MONTAG
Our explosive #RHOBH Season Five is wrapping!! I have a feeling it's not going to be #HappilyEverAfter for all involved. The Beverly Hills secret drama vault is being opened, and you know there are going to be some diamonds in there... or at least some gold diggers.
Last weekend's opening X Factor weekend was amazing. The bar was raised, very, very high and it is now up to the rest of the acts to jump over it.
PROMOTED BY HEIDI_MONTAG
In the final part of this glamorous Beverly Hills reunion, the real stars are the dirty mouths and provocative conversations of our favorite 90210 Housewives!
The X Factor 2015 journey is well and truly up and running and just like a bus, you wait ages for one and then two come along at once. Ladies and gentlemen, it's Sunday show time.
Up first is retired grandmother, Susan Pryce and although she seems like a nice person, her version of 2 Unlimited's No Limit made me reach for the volume button on my remote. The judges seemed to like it though and 'techno' notice of her bad singing. Susan got the first four yeses of the 2015 series.
PROMOTED BY HEIDI_MONTAG
Eileen should know by now that there are no secrets on reality TV. If you were a home-wrecker in the past, regardless of the circumstances, it is going to come out! Eileen, you're not playing a pretend character anymore, and you can't always get the role you want in real life.
Innuendo of the week: "Right, let's get into the bottom!" Judge Paul is VERY keen to taste contestant Paul's cheesecake. I told you there was a bromance.
I'm not suggesting I want to see the celebrities sitting cross-legged in the living room singing 'Kumbaya' together (unless, of course, it's a part of some class of fabulous task). Arguments are as valid and necessary a part of the 'Big Brother' experience as anything else. But there has to be more than that to make it enjoyable.
PROMOTED BY HEIDI_MONTAG
Kim might be a little funny, but the winner for this season's Entertainment Queen goes to Brandi! You will be missed, Brandi, at least by the audience! I hope Brandi and Andre (her Dutch boy) get married. Lol, get it girl!! #NoJudgement
PROMOTED BY HEIDI_MONTAG
Lisa Vanderpump takes the opportunity to shame and confront Brandi one last time for her grand finale - but Brandi has other plans. Brandi is sick of these women and is not having it when Lisa V. tries to shame her. I agree with Brandi...
PROMOTED BY HEIDI_MONTAG
Brandi is right, too, though, when she responds to Yolanda by saying that the other Housewives all get away with acting crazy and misbehaving. Let's not forget, Lisa Rinna threw a glass which was reckless. If that was Brandi, they would have called the police! It is a #DoubleStandard for sure. Poor Brandi!