When she's not mastering writing and maths, 11-year-old Somran Bakhshi is creating an app to help disabled citizens in Ilford navigate public transport to visit free museums and galleries in London. Somran is a student and budding activist at Gearies Primary School where pupils are part of the WE Schools programme that encourages them to solve social problems and build a bridge to the wider community.
As I sit here reflecting on all the privileges I have experienced as a teenager, I wonder if it had not been for the life changing moment that I saw the news coverage on TV of the terrible and devastating 2004 Tsunami in Indonesia, would my life have taken a different path?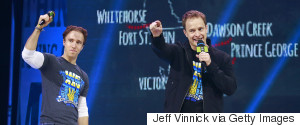 Remember that gung-ho teen who stopped you at the shopping centre for your signature on a petition or donation to a local cause? You might have just met tomorrow's millionaire entrepreneur.
Despite being almost double their age, these are important lessons that I too took from WE day and indeed, I think are important mantras for life. It was extremely empowering and inspiring to be surrounded by young people who are not only engaged in society but want to see changes in it. And all before they leave school!
What began 20 years ago as a dozen 12-year-olds in our parents' living room has become a movement of over three million young people around the world. Whether it's the environment or knife crime, homelessness in their hometown or poverty overseas, we've learned that young people want to make a difference.
From homelessness and knife crime, to unemployment and climate change, today's young people are affected by the social challenges they see around them. These issues are impacted in turn by political decisions made in Westminster - so it is important to discuss whether young people under 18 should have democratic input into the political future of their country.
I have never really been a very charitable person apart from the usual; sponsoring friends, completing lengthy swims for Cancer Research and Comic Relief & Children in Need donations etc. So when I had to fill in an application form at AOL UK to be part of a volunteer trip with Free the Children charity in Kenya, I was a bit thin on the evidence to make my case as to why I should be picked.
I find it hard to believe that today around half the food we produce is thrown away, while people like Mapangano are hungry. I think this is unfair and we need to solve this. Young people have the ambition, creativity and energy to find a solution but we need to talk and we need to work together.