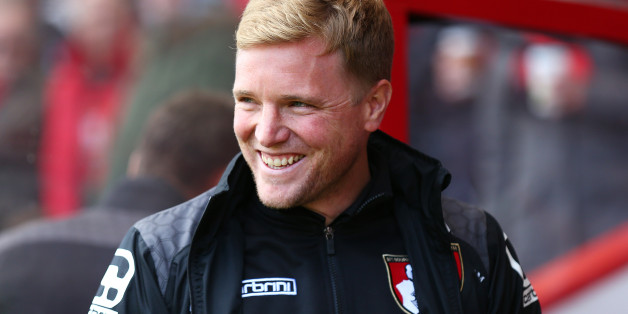 The future of the England national team could be in tatters.
England's miserable and gutless display against their Nordic counterparts Iceland rubber-stamped what looked like an all-time low for the Three Lions, but it appears the state of affairs at the FA is going from worse to catastrophe judging by some of the potential names to succeed the outgoing Roy Hodgson.
Former Spurs and Chelsea boss Glenn Hoddle, who took charge of England in the late 90s, has already received backing from the likes of Ray Wilkins, Gary Lineker and World Cup winner Sir Geoff Hurst to become the next man in the dugout despite being out of the management game for a decade, while bookmakers have tipped U21s boss Gareth Southgate to make the step up to the senior side, although any such appointment would plunge the team into another decade of déjà vu and wasted time.
The fact that former England players and managers, especially one that has already failed once, are seemingly the most exciting options we can offer up is depressingly uninspiring and only highlights the ugly truth about the quality of English coaching at present.
Except there is a glimmer of hope in all this mess that everyone, including the FA, is likely to overlook: Bournemouth manager Eddie Howe.
Howe was never much of a player- a crippling injury forcing him to retire aged 29- but as the youngest boss in the Football League at the time, he lead the Cherries from the brink of extinction as a club in League Two in 2009 to safety in the Premier League in 2016- A feat that many of us have failed to even replicate in a football management simulation game,
Instead of investing in players and facilities, Howe invested in personality and character. He utilised the club's youth system to find people who wanted to fight for Bournemouth, with attractive football and goalscoring not jeopardised.
Still only 38 years old, Howe is undoubtably the hottest managerial prospect in the country, yet it seems that the Football Association will maintain their streak of appointing more experienced managers, yet ones without any clear style or spark to their work. Hodgson was given three major tournaments to showcase what his vision would bring to the fold, yet each time the team set out onto the pitch without looking the slightest bit confident in their game plan; if one even existed.
Hodgson's predecessor Capello coughed up more or less of the same bland football in the 2010 World Cup, as we crashed out in the Last 16 to Germany and failed to beat USA and Algeria. Sven Goran-Erikssen before him is rated as one of England's most successful managers with a record of never failing to get to the Quarter Final stage in any tournament, but that is rather kind to a man whose 'consistency' is the hallmark with which we loathe the England team for at times.
With Howe at the helm, the Three Lions will finally possess the passion that we have seldom seen, the never say die attitude that we were served up to us by Iceland: a team comprised of sub-standard Championship quality players, yet one that beat us by out-desiring and out-fighting us on the pitch.
The former Portsmouth player is no stranger to working with English talent, even if it doesn't include 'big' names like Wayne Rooney. Last year, Howe admitted he strives to keep the core of his Bournemouth side filled with homegrown players who will leave nothing on the pitch, rather than a superstar who isn't on the same page as his committed unit at the Vitality.
"I think we would stay British." He said.
"I look for several things. Playing ability, of course, and where they fit into the team. I am very much against signing a player who is good, but you don't know where he will fit in.
"You think, 'I will mould him into the team', but that usually doesn't work. And character. You need the character."
The argument could be made then, that the down to earth overachievers Howe possesses at Bournemouth don't exist in the England team, and that he would come unstuck attempting to get performances out of the divas who regularly disappoint on the national stage.
Except maybe he's the solution to the problem. His own right back Simon Francis was statistically one of the best defenders in the league last season with a WhoScored.com rating of 7.15, but a player like Gary Cahill, who endured a woeful season with Chelsea, was taken instead based on reputation.
What's true is Eddie Howe's teams play fast, attacking football while keeping things tight at the back- three factors many of us have never seen from an England team in our lifetimes. That is the way English football is supposed to be played, not mindless passing side to side with no clue of what to do with it.
The question that should be asked is why on earth Eddie would want to risk destroying his promising coaching career by embracing the poisoned that is the England job, where great expectations are the death of you.
On the other hand, he took an even bigger gamble when he decided to attempt the impossible with his boyhood team way back in 2009, before he even turned 30. Something tells me he would take a gamble on this one.
For more fan views or to join the conversation visit www.90min.com
SUBSCRIBE AND FOLLOW
Get top stories and blog posts emailed to me each day. Newsletters may offer personalized content or advertisements.
Learn more