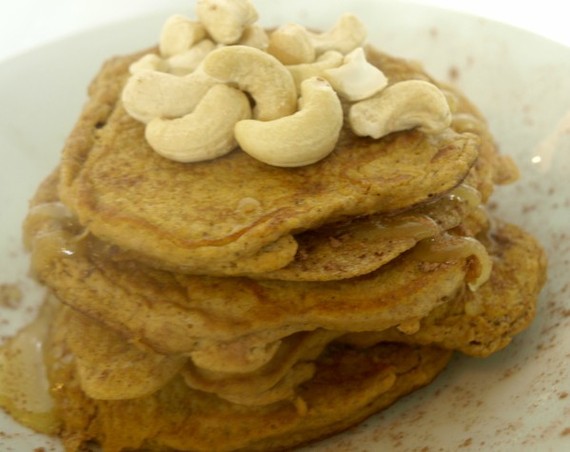 With Strove Tuesday just around the corner, I've teamed up with some fabulous free from foodie bloggers to bring you a vast array of free from pancakes.
We eat pancakes most days in our house, and you're about to find out why!
These are real little beauts. Not only are they super delicious, they're full of nutrients, which makes them a win win for any meal time. Although the ingredients couldn't be further from a regular recipe, please don't be put off!
The grain free, dairy free, sugar free batter couldn't be easier to knock up, and they fry just as well as any other pancakes you will have made. The exact same rules apply to these, you don't need to do anything fancy while cooking.
The main ingredient is butternut squash, a wonderfully versatile root vegetable, which is very low in starch (which means that it's low carb). Butternut squash is also full of vitamins A, B6, C and magnesium. I cut the squash into small chunks and roast in coconut oil on a 175c for around 45 mins to an hour.
Next up we have eggs, which really don't need an introduction. Providing you aren't allergic to them of course, eggs are a wonderful source of nutrition. Loaded with vitamins D, A and B12 as well as iron and calcium, they provide the body with a great energy boost.
I would strongly suggest finding a reputable source for your eggs. I buy mine from my local greengrocer, and they come from a truly free range farm, ten miles from my house.
Last, but by no means least, we have cashew nuts, which are full of vitamin B6, iron and magnesium. Did you know that it's largely believed cashews contain anti-depressant properties? Next time you're feeling the winter blues grab a handful and see if they cheer you up.
Ingredients for six
200g cooked butternut squash
1/4cup cashew nut butter
3 large free range eggs, or 4 small ones
1/4tsp vanilla powder, or 1 tsp of extract
1/4tsp bicarb of soda
Oil for frying, I use coconut oil
Method
- put all the ingredients into your blender or food processor and whizz on a high setting, until a thick but runny batter is formed
- get your non-stick pan nice and hot, add a little oil, then add a thin layer of batter
- cook for a minute or two, and flip to the other side once you see bubbles forming
- cook on the second side, then put on plate for serving
- repeat until they've all been cooked
- garnish with your favourite toppings. My kids love raw honey, with cocoa and cinnamon sprinkles
For more inspiration, check out this awesome list of free from recipes
Gluten Free Jam Jar Pancakes from The Free From Fairy
Gluten Free, Dairy Free, Egg Free Pancakes from The Intolerant Gourmand
Gluten Free Apple and Cinnamon Pancakes from Glutarama
Gluten Free Vegan Chia Pancakes from Free From Farmhouse
Vegan Banana Pancakes from Le Coin de Mel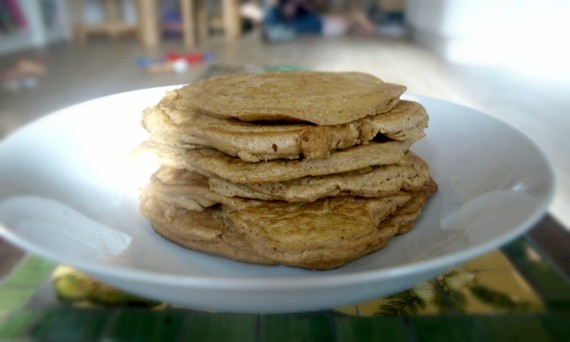 Paleo Banana and Almond Pancakes from Paleo Crust
Paleo Coconut Pancakes from Cherished by Me
Dairy Free Lemon and Sugar Pancakes by Dairy Free Kids
Coconut and Lime Vegan Pancakes from The Peachicks Bakery
Oat Almond and Banana Pancakes with a Berry Compote from Easy Peasy Foodie
Low FODMAP and Low SYN Pancakes from Hijacked by Twins
This Blogger's Books and Other Items from...
SUBSCRIBE TO & FOLLOW UK LIFESTYLE