I realise I'm probably quite alone in this but I HATE warm weather. HATE it. I cannot bear this stupid weather is because of the dressing dilemmas it presents. Even the snappiest fashion fans seem to fall prey to the pitfalls of the London summer where you can encounter many different weather conditions, usually sun, wind and rain, in any 12 hour period.
My weather workaround has been to rely on cropped trousers, sandals or skate shoes and some denim staples - two denim shirts, one dark, one light, a denim sweatshirt and a classic (trans: 'old') 90s Levi's denim jacket that I discovered when unpacking my 'archive'. And the more I wear them, the more I'm rediscovering my love of good denim (which doesn't have to be expensive, by the way - Gap has some of the best denim around, including Japanese denim, for completely reasonable prices, plus SALE TIME!).
So that's why I'm writing about all the indigo it-pieces I have my eyes on right now. From high end to high street, there are some great choices so step outside your jeans comfort zone and try some other denim styles. A shirt dress, these skate shoes and super hot denim heels are topping my wish list this weekend.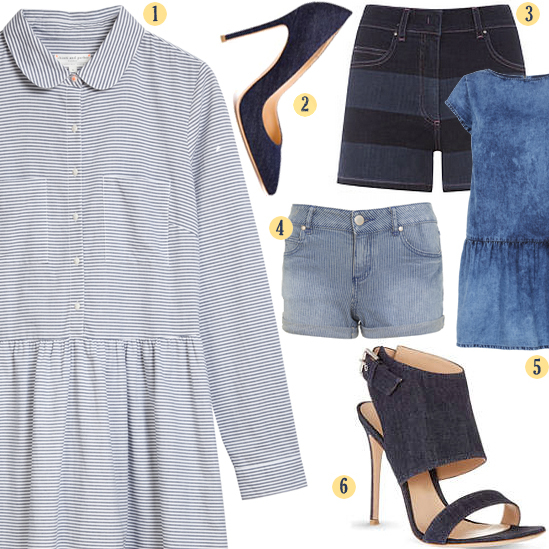 1 Chinti & Parker, stripe shirt dress, £175 from www.chintiandparker.com; 2 Gianvito Rossi denim pumps, £260 from £520 at FarFetch.com; 3 Sonia by Sonia Rykiel, striped denim shorts, £109, exclusive to Harrods; 4 Miss Selfridge, denim shorts, £25 from www.missselfridge.com; 5 Primark, denim drop waist dress, £12, available in store; 6 Gianvito Rossi, denim buckled sandals, £470 from www.selfridges.com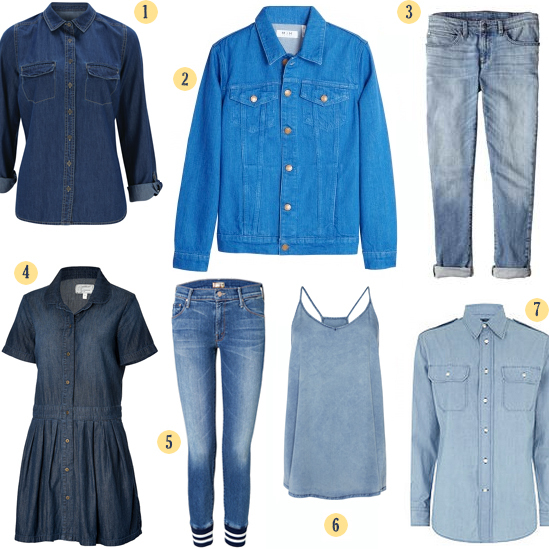 1 Sainsbury's TU, denim shirt, £18 from selected stores: 0800 63 62 62; 2 MiH Jeans, boyfriend denim jacket in 'blue blue', £235 (pre-sale price), from www.mih-jeans.com; 3 Eileen Fisher, organic cotton boyfriend jeans, £160, from www.eileenfisher.co.uk; 4 Current/Elliot denim shirt dress, £145 and 5 Mother, Trainer jeans, £237, both from www.stylebop.com; 6 Primark, acid wash camisole top, £6 available in stores 7 Ralph Lauren Blue Label, Raphaella shirt, £160, from Harrods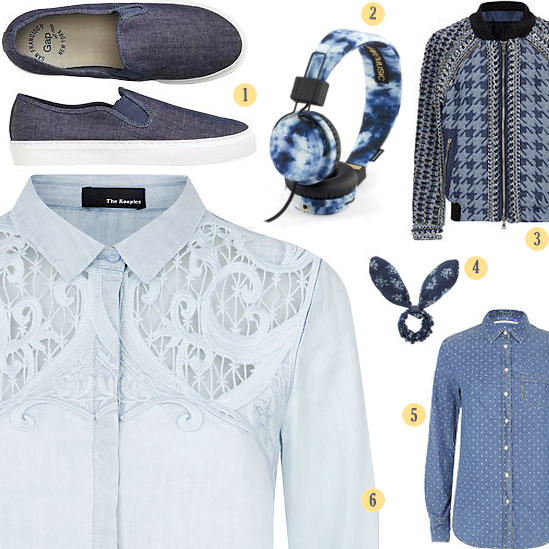 1 Gap, chambray skate shoes, £29.99 from www.gap.co.uk; 2 H&M x Urbanears denim wash headphones, £29.99 from www.hm.com; 3 Balmain, embellished denim bomber jacket, £11,100 (soon to be 30% off) from www.harrods.com; 4 Claire's, Denim Snap Band Hair Styler, £1.50 from www.claires.co.uk; 5 MaxMara Weekend, star print denim shirt, £135 (30% off available) from www.harrods.com; 6 The Kooples, Baroque embroidered denim shirt, £122.50 from www.harrods.com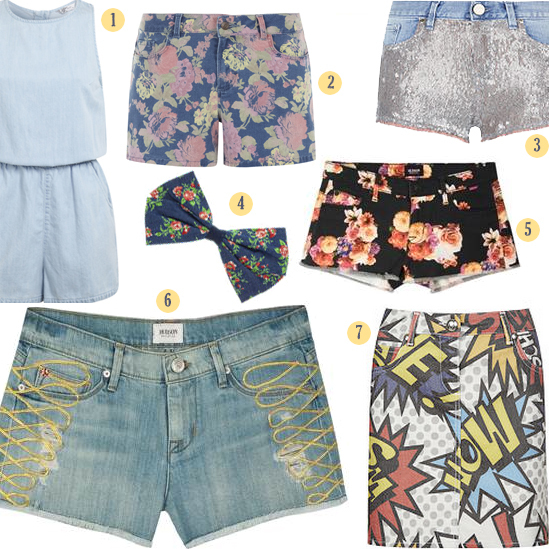 1 Miss Selfridge, denim romper, £30 from www.missselfridge.com; 2 Oliver Bonas, floral denim shorts, £35 from www.oliverbonas.com; 3 Pinko, Casablanca denim shorts, reduced to £93 from www.harrods.com; 4 Claire's, large denim hair bow, £4.50 from www.claires.co.uk; 5 Amber floral denim shorts, £100, and 6 Hendrix shorts, £250, both by Hudson Jeans, exclusively from Harrods; 7 3.1 Philip Lim, Cartoon print mini skirt, £155 (soon to go on sale) from www.harrods.com
SUBSCRIBE AND FOLLOW
Get top stories and blog posts emailed to me each day. Newsletters may offer personalized content or advertisements.
Learn more