Weekend Shopping: Father's Day Gift Guide Firstly, DON'T PANIC - Father's Day is NEXT Sunday (17th June), in the UK. This is just a heads up with a few ideas all available to buy online for anyone who doesn't want to run the rain gauntlet or waste any lesser spotted sunny spells trekking round the shops looking for presents.
Classic Father's Day gifts aside (books, socks, booze), here's a range of dad stuff to show your old man - old, young or just young at heart - how much you love him. And not a cufflink in sight.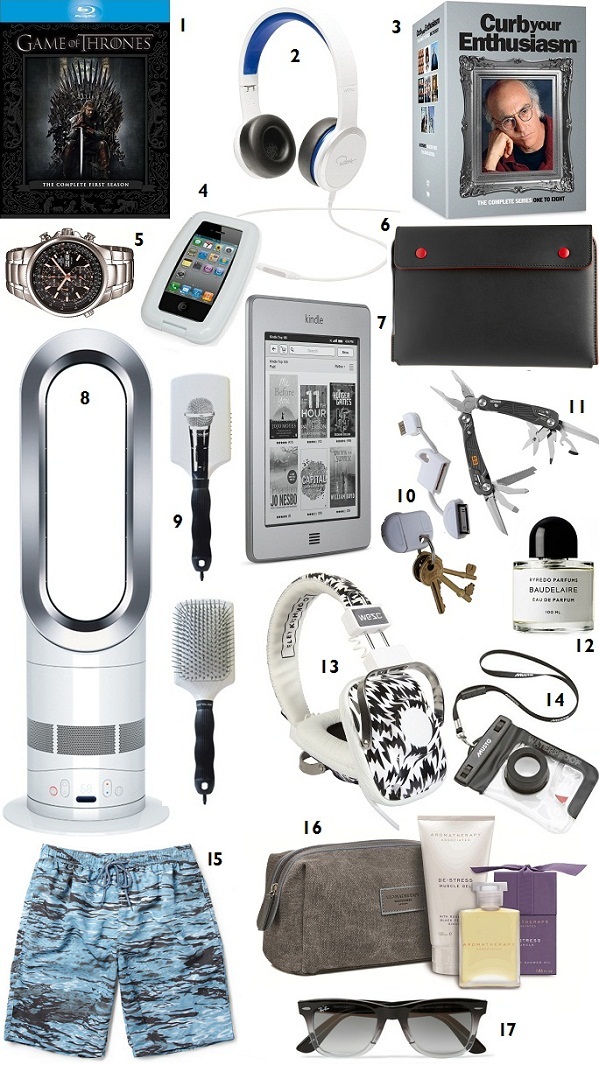 1. Game of Thrones - Season 1, £31.99 on Blu-Ray or £20 on DVD, from www.amazon.co.uk
2. Wesc x RZA: Chambers by RZA Street headphones in white and blue, available from Wesc.
3. Curb Your Enthusiasm - Complete HBO Season 1-8 on DVD, £55 www.amazon.co.uk
4. Thumbs Up Aqua Waterproof Phone Case, £16.99 from www.iwantoneofthose.com
5. Casio Edifice watch model EFR-506D-1AVEF, £150.00 www.casioonline.co.uk
6. Bill Amberg leather kindle case, £195 from www.mrporter.com
7. Kindle Touch 3G, £160 (or £109 without 3G) from www.amazon.co.uk
8. Dyson Hot Fan (also works as a cooler), £242.99 www.johnlewis.com
9. Corioliss Micro Paddle Brush with a microphone on the back, £9.95 www.johnlewis.com
10. Thumbs Up iPhone charging cable USB keyring (SO handy), £7.99 from www.play.com
11. Bear Grylls Ultimate Multi-Tool - £49.95 - RED5 www.red5.co.uk
12. Byredo Parfums 'Baudelaire' unisex eau de parfum 100ml, £130 exclusively at www.liberty.co.uk
13. Eley Kishimoto x Wesc. headphones, available from Wesc. stores.
14. Musto waterproof camera holder with lanyard, £30 www.musto.com
15. Paul Smith Long-Length water-print swim shorts, £85, www.mrporter.com
16. Aromatherapy Associates De-Stress Muscle Kit, £45 www.aromatherapyassociates.com
17. Ray Ban degrade acetate Wayfarer sunglasses, £130 www.mrporter.com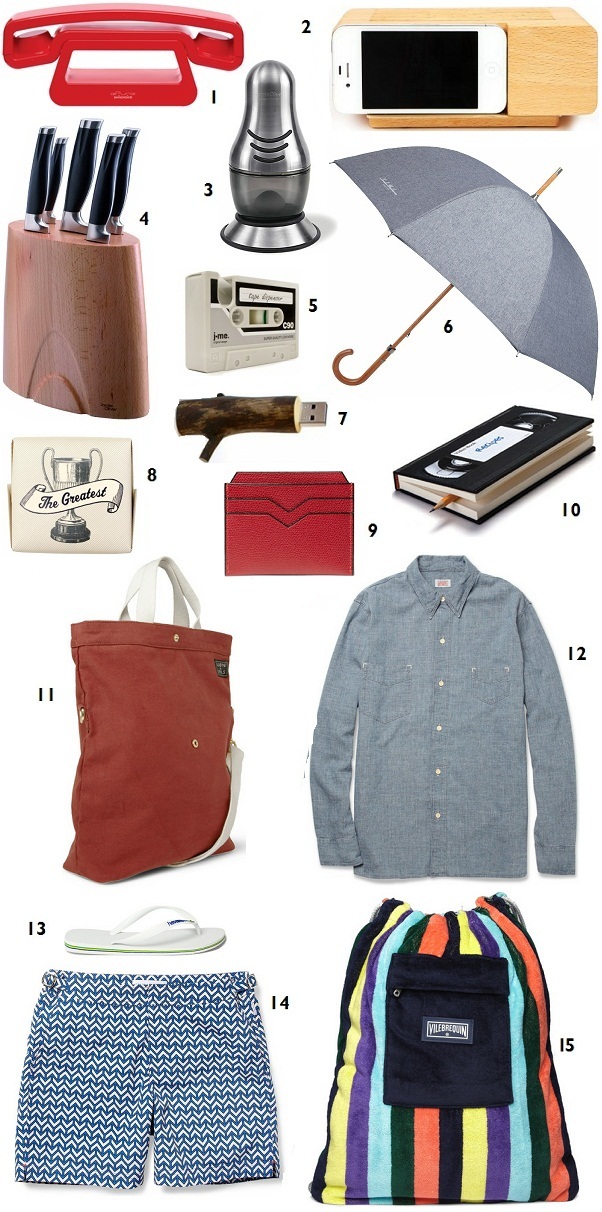 1. Swissvoice ePure Digital Phone, £69.95 www.johnlewis.com
2. Damon Alarm clock, $40 online from www.jackspade.com or in-store from their London shop
3. Jamie Oliver special edition stainless steel Flavour Shaker, available throughout the UK and Ireland from all good cookshops, department stores etc. also, 4. Jamie Oliver set of five dishwasher safe kitchen knives and knife block, which comes ready gift-boxed. For info and stockists see www.jamieoliverskitchenkit.com
5. j-me x j-me original design ltd Tape Dispenser in Cool Grey, £13.50 www.culturelabel.com
6. London Undercover blue denim premium canvas umbrella, £135 www.liberty.co.uk
7. Collection of Cool x Oooms wooden USB, £27 www.culturelabel.com
8. The Green Giving Co, 'The Greatest' Bar Soap Izola, £14 www.culturelabel.com
9. Valextra cross-grain red leather card holder, £140 www.mrporter.com
10. Maiden Video notebook, £12 www.culturelabel.com
11. Aubin & Wills Yetlington cotton-canvas tote man bag, £65 www.mrporter.com
12. Levi's Vintage Clothing 1920s checked cotton shirt, £150 www.mrporter.com
13. Havianas flip flops, £20 www.mrporter.com
14. Orlebar Brown Bulldog mid-length printed swim shorts, £165, www.mrporter.com
15. Vilebrequin Symbole striped towel with built in bag, £160 www.mrporter.com
1. Max Payne 3 for PS3, £34.87 (other formats also available) www.rockstargames.com
2. Super Dad gingerbread man biscuit, £3 www.johnlewis.com
3. The Limitededition Co x Jon Burgerman, Jon Burgerman "Red Eye" Seahope watch, £120 www.culturelabel.com
4. Vivian polo shirt with colour blocked detail, £45 www.merc.com
5. The Beach Boys, That's Why God Made the Radio, CD, £8.99 www.amazon.co.uk
6. Take a Break lunchbox, £7.95 from www.RED5.co.uk
7. Tom Clancy's Ghost Recon Future Soldier on XBox 360 £37.99 (other formats also available) www.amazon.co.uk
8. TheAmazon andrs Boombox Vintage LunchBox BoomCase, £247.00, www.culturelabel.com
9. Thumbs Up Space Rug, available from various stockists including www.iwantoneofthose.com
10. Swatch New Gent Lacquered watches, £47.50 each www.swatch.com
11. Paperwallet x Elna, Artist Edition Paperwallet, £19.95 www.culturelabel.com
12. Uncharted 3: Drake's Deception for PS3, £24.49 www.amazon.co.uk
13. Breaking Bad - Season 1 DVD £10.99 www.amazon.co.uk
Follow Sarah McGiven on Twitter: www.twitter.com/FightForYrWrite