Weekend Shopping: (Faux) Fur Coat, Great Knickers
Finally, a year after moving in, I've started unpacking the contents of my closet from storage. The piles have been sorted - hang, vacuum pack, eBay and bin - and I'm starting to see some room for improvement. Plethora of leopard print jackets and new Versace x H&M bomber aside, my outerwear choices (mainly parkas in a variety of colours, lengths, weights and ages) need an oomph so I'm thinking cruelty free glamour with big, warm, faux furs and, on an altogether parkier note, it's also time to revamp the knicker drawer. So, this weekend's shopping list brings you a selection of the best fun fur coats and jackets alongside some of the coolest underwear out there.
I won't bore you with too many of the trend details here - let's face it, most of you will just want to look at the pictures - suffice to say that faux fur is where it's at for responsible winter chic with labels from the hautest designers to the ends of the High Street producing versions that range from the 'It looks real, I'm sure it's real, that can't be a fake' to cuddly teddy bear fun. And, on an underwear tip, you can all see for yourself that Mad Men / Pan Am style retro undies with long line bras and big knickers are back back back (see: Cheap Monday, Tracey Boyd for John Lewis, Jasper Conran's Debenhams line etc), as are bodies - at least thanks to the popularity of jumpsuits and onesies we're all used to the longer loo time already - lovely lace and bold, graphic styles, be it Wolford's Bonny spots, Ell & Cee's Jezebel detailing or the chunky black outlines of Dirty Pretty Things' in your face Metallic Flash range.
These pics are quite small so for a closer look at the underwear below, click here to check out the album 'Awesome Undies' on my Facebook page (feel free to give it a Like while you're there too!).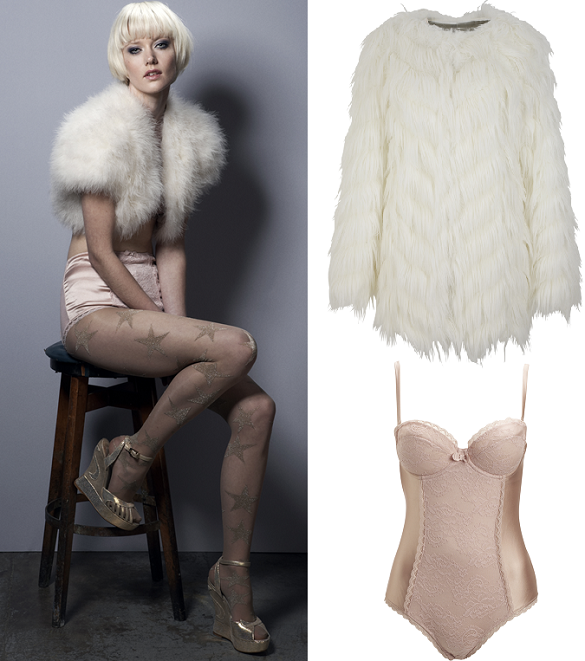 Clockwise from left: model wears shrug and Tracey Boyd underwear, both John Lewis, Isme faux fur coat £79, Tracey Boyd for John Lewis body, £55.


Clockwise from left: Orelle coat (£179.99) from Faux UK, underwired black mesh bra (£25), champagne body (£35) and big knickers (£12) all from Cheap Monday's fab new underwear range, available at www.urbanoutfitters.co.uk, Faux fur coat, (£199) from John Lewis, B by Ted Baker bodice, (£35), Triumph Essence Luxury underwired bra, (£51), and hipster shorts (£27), J by Jasper Conran retro longline bra, (£22.50), and big knickers, (£15) all from Debenhams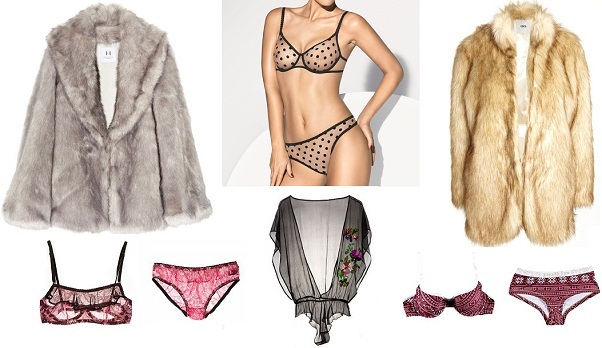 Clockwise from left: Halston Heritage grey faux fur shawl collared coat, (£485) from Net-A-Porter.com, Wolford Bonny Spots underwired bra, (£79), and matching string, (£39), ASOS.com fake fur coat (£85), Pull-In Underwear Festive Fair Isle Marc set available soon from www.blackleaf.com, Bianca beaded playsuit (£148.50), Starlet underwired bra (£70), and matching hipster knickers (£44.50), all from Ell & Cee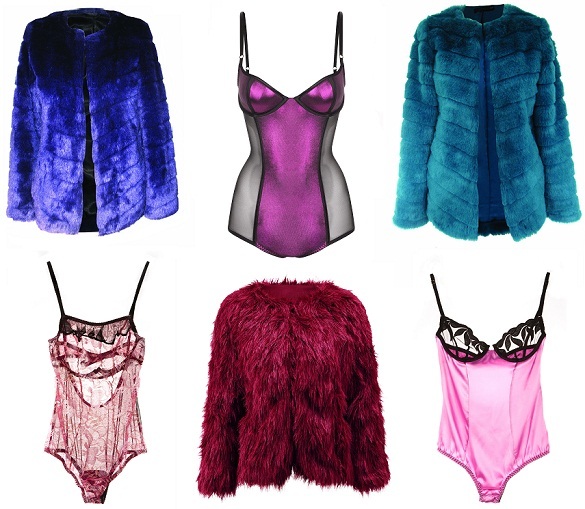 Top Row: Left and far Right, Jewel hued fun fur jackets from Savida at Ireland's Dunnes Stores in electric blue and jade €55 each, Dirty Pretty Things padded Metallic Flash body in purple, (£125 at Selfridges), Bottom Row: Ell & Cee Starlet body, £102.50, The Love Label fun fur (£59) from Very.co.uk, Jezebel body (£104), also from Ell & Cee.

Clockwise from left: Zermatta fake fur jacket as worn by Kate Moss, (£99.99) from Faux UK, pink and black Jezebel underwired bra (£70), and peekaboo knickers (£45.50) both from Ell & Cee, Cheap Monday lace bralette (£22) and matching hipster knickers (£12) from www.urbanoutfitters.co.uk, Primark multi faux fur jacket, Michael by Michael Kors collarless faux fur coat (£255) from Net-A-Porter.com, Bianca Soft bra (£63.50) and shorts (£59.50) from Ell & Cee, Gold Metallic Flash underwired bra (£95) and hipster knickers (£95) by Dirty Pretty Things exclusively at Selfridges, ASOS Curve two tone faux fur coat, (£80).
Follow Sarah McGiven on Twitter: www.twitter.com/FightForYrWrite