Kanye is one of the most talked about musicians of our time - but is it for the right reasons?
His fabulous set at the Wireless festival had the likes of Naomi Campbell and the Arsenal football squad grooving in the rain soaked park, and the crowd hanging off his every word from his colourful catalogue of hits as he beamed in his element on stage.
But then the 'other Kanye' had to come out - as the pampered star's rant about the injustices he has faced was met with boos from the crowd.
Backstage at Finsbury Park all everyone could talk about was how organisers were in a panic as Kanye apparently did not want the big screens on either side of the stage turned on because of his, erm, creativity.
They just hoped he'd change his mind.
Just relax Kanye, and let's have more of your old skool cool.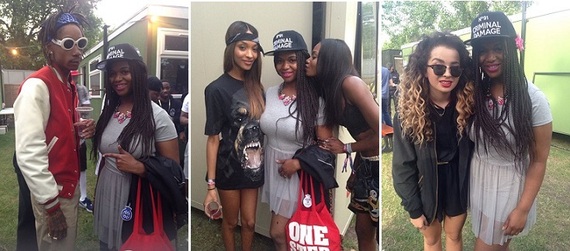 Fab time at Wireless with Wiz Khalifa, supermodel Jourdan Dunn and Ella Eyre
Copyright Sarah Tetteh
Family adventures in the UK this summer:
We rolled up to Wireless in style - and headed to the Tour de France in Sheffield the next day.
Cutting through the streets wasn't easy as most of them were closed off due to the thousands of spectators who traveled to the Yorkshire dales in to watch the cyclists.
For the four hour long journey there we kept our tot entertained with Netflix's schools out for the summer shows The Magic School Bus, and Monster Math Squad - always handy for long journeys, parents.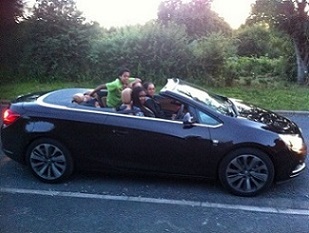 Heading to Tour de France with the family.
Copyright Sarah Tetteh
Goodwood Festival of Speed.
I got to be Lewis Hamilton for the day as I headed to Goodwood - which is on throughout the summer for motor enthusiasts.
I caught up with the yummy mummy that is Denise Van Outen.
She's 40, single and ready to mingle - and Denise confided in me how being back on the dating scene is going after her split from husband Lee Mead last year.
'I feel naughty at forty - it's nice to be out and about again - enjoying some Denise time. I feel great.
I feel more relaxed in life. Your thirties are for learning and going through stuff, but at 40 you know who you are - you can relax.'
She still has a laugh though - she added: 'I get guys asking me out on Twitter. Which is quite amusing - but I don't really pay much attention to it I just think it's funny. '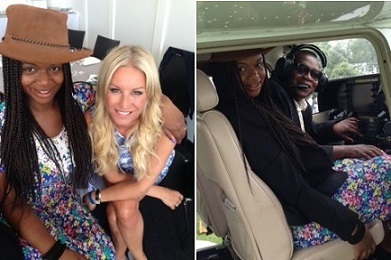 Feeling the need for speed: Goodwood with Denise and Papa Prince ready for take off.
Copyright Sarah Tetteh
Just For kids:London Zoo is hosting several family friendly events over the summer.
I popped along last Saturday to a party there, with celebrities Imogen Thomas, Danielle O'Hara and Delilah joining the celebrations.
Danielle, whose been partying up a storm in Vegas, spoke to silence critics of her marriage to footy star Jamie O'Hara at the Claire's event.
'Jamie and I are back on track. We are so happy and in love that we finish each other's sentences! Vegas was amazing I have no regrets. Jamie spent a hell of a lot of money getting me there so of course I'm going to have fun. To hell with what everyone else thinks, he's my soulmate. We're not planning on any more kids for now we're happy as we are and are just going to enjoy each other.'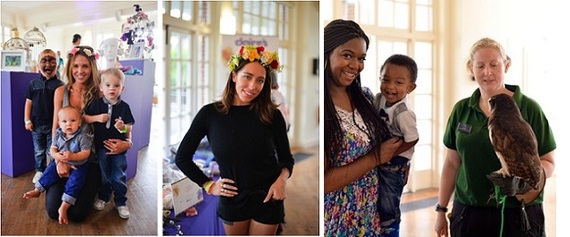 Zoo much fun - with Danielle O'Hara and fam
Copyright Claire's
SUBSCRIBE TO & FOLLOW UK ENTERTAINMENT