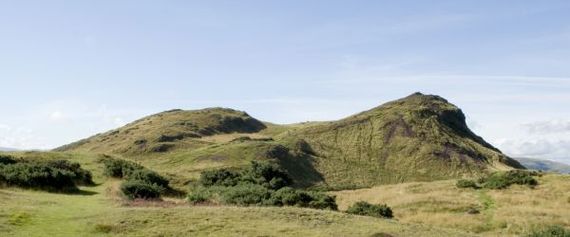 Image courtesy of Edinburgh.org
Fresh from being named the greenest city in the UK, Marketing Edinburgh has compiled a list of the top 20 ways to make the most of the stunning greenery in Scotland's capital city.
In new research results from software company Esri, it has been scientifically proven that Edinburgh trumps every other UK city in greenspace measurement with the city sitting at 49%, making up almost half of the city.
To celebrate its new green jewel status, residents and visitors are being encouraged to get out and make the most of their local parks and green areas with a rundown of 20 ways to enjoy Edinburgh's beautiful outdoors. Listed on Edinburgh.org to a range of activities and interests to suit all ages across the city. The list of activities is guaranteed to help turn the January blues green with a new fitness regime, hobby or pastime.
John Donnelly, Chief Executive at Marketing Edinburgh said: "After hearing the results of the top green city we knew we had to showcase some of the best ways for our residents and visitors to get out and enjoy the city's numerous green spaces. Edinburgh is full of stunning parks and recreational spaces so we'd like to use this new research as a reminder of what's available right on our doorsteps."
For those keen to keep their fitness resolution on track, Inverleith Park is home to weekly running group, Edinburgh Runners, while Rugby competitors, Caledonian Thebans, regularly use the space for training. Families with young ones don't have to miss out on exercise with fun fitness classes that parents and babies can enjoy together including Bambino Bootcamps at The Meadows and Buggy Walks in Fountainbridge. Renowned for its excellent cycling routes, Lothian Cyclists bridge the gap between leisure rides and intimidating road clubs with free groups that venture to a number of parks throughout the city.
If walking is preferred, there are a number of walking tours city-wide that meet a variety of interests. Head to Holyrood Park for Hot Rocks, a free guided walk with a ranger and geologist or try the self-guided tour from The Edinburgh Old Town Treasure Hunt and perhaps discover a part of the city you've never been to.
Dog owners can meet like-minded residents by heading along to park meet ups like The Edinburgh French Bulldog Meet-Ups at Kiddie Park. Or why not create art of the cities green spaces as you sketch the city on walking tour, Sketching by the Mile.
Check out the full list of 20 ways to enjoy Edinburgh's greenspaces on www.edinburgh.org/blog/edinburgh-green-spaces.
SUBSCRIBE TO & FOLLOW UK LIFESTYLE