A top secret report on the full extent of Bletchley Park's involvement in cracking the Nazi enigma code in WWII has been released.
The report, written in four parts by four authors writing with no knowledge of each other's work and which reveals highly-advanced code-breaking skills, has been made public after 66 years of top secret "ultra" classification.
Simon Greenish, CEO of Bletchley Park National Code Centre said: "This extraordinary document was kept under wraps for 66 years, because the code breaking techniques used by the team at Bletchley Park to crack the Nazi enigma codes were so advanced that it was relevant for codebreakers until very recently. Bletchley Park was decades ahead of its time."
The inch-thick document, which is so complex that the team at Bletchley Park have not yet read it in its entirety, was written by Keith and Mavis Batey, Margaret Rock and Peter Twinn at the end of WWII and covers German Secret Service codebreaking as well as the work of Intelligence Services Knox (ISK) at Bletchley Park.
"From what we have managed to read, the most remarkable thing that the report reveals, besides the advanced mathametical details, is the psychology of the codebreakers," said Greenish. "The education system in England at that time turned out remarkable lateral thinkers who were able to put themselves on the other side, to think how the code-makers were thinking. They were so effective and their advanced perspective on the codes was precisely what we as a country didn't want people to know about until now,"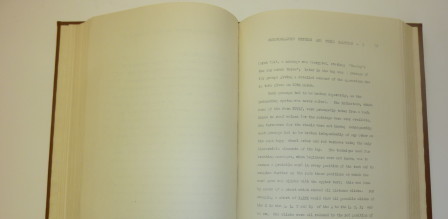 Of particular interest is the extraordinary insight and intelligence of Keith Batey who was tasked with working on the most difficult enigmas codes, those generated by the German SG41 machine. This machine was developed by Admiral Willhelm Canaris, head of the German military intelligence organisation. He believed enigma was susceptible to decoding, although it did not go into broad-scale use.
The report also revealed to Mavis Batey just what her late husband and co-author Keith Batey, who died last year, was working on alongside her for all those years. The rules at the time meant that as a married couple they had to work in separate units and could not discuss their work together. Mavis, who joined Bletchley Park at 19 as the then-unmarried Mavis Lever, was one of very few skilled female cryptanalysts at the site alongside Margaret Rock and Joan Clarke. Dilly Knox, lead code-breaker, said of her "Give me a Lever [Mavis] and a Rock [Margaret] and I will move the Universe".
Batey said: "I remember writing this document very clearly. The most remarkable thing about it for me was seeing what my husband was doing all those years. Of course I could completely understand it. Just because we weren't allowed to work in the same room didn't mean we couldn't sleep together, and he did use to cry out in the night that he wanted to meet the man who made the SG41. Perhaps now he has."
The dense mathematical workings are described by Greenish as "too difficult for even many mathematics graduates to comprehend.
"I am worried that the average person is not sufficiently mathematically educated to produce this kind of level of knowledge again," he added.
Those wishing to test Greenish's assertion can do so at Bletchley Park museum and at the National Archives, where the full report is viewable by appointment. Key pages of the report will be on display to the public at the Bletchley Park museum, along with the Turing papers, another set of key enigma-era code-breaking material that the museum has purchased.