Mystery gridlines in the Chinese desert that were captured by Google Earth have spawned wild and worrying conspiracy theories.
Labyrinth-like, the pictures depict apparently man-made structures that look like thick white lines visible from space. Others show circular swirls, with jets surrounded by military trucks at the centre.
The puzzling patterns have prompted the question: What on earth is China up to?
A defence expert has compared the circular grids to Area 51, the American military test base rumoured to be the secret headquarters for examining aliens and UFOs.
Tim Ripley from Jane's Defence Weekly, told the Telegraph: "The picture of the circle looks very like a missile test range, with target and instrumentation set out to record weapon effects. The Americans have lots of these in Nevada - Area 51."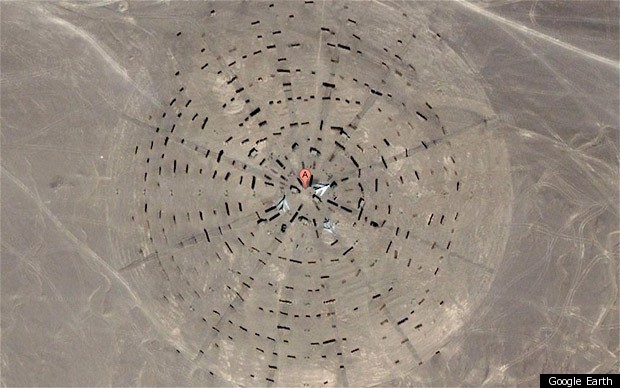 Captured in the Gobi desert in 2007, the structures are isolated, but geographically form a midway point between two test bases.
The Chinese carry out secret aircraft testing at Ding Xin military airbase, comparatively close to the desert location at 400 miles away. To the other side lies Lop Nur, the site where China tested nuclear bombs between 1967 and 1995.
Another theorist suggested the grid mapped out the exact replica of Washington DC's city plan, provoking fears of a different kind of an invasion. The street plans might be used as simulation practice for Chinese missiles.
The region is already used for a China's space centre, carried out only 100 miles away in Jiuquan. As speculation continues, have your say on the mystery pictures in the comments below.