The Only Way Is Essex star Lauren Pope must have known full well that the thousands of screaming fans camped out at Westfield's Stratford shopping centre in East London last night were not there to see her.
OK, maybe there were a couple of hardcore TOWIE fans who thought they'd brave the November chill to see their favourite fake-tanned reality stars - but I think we can be certain that the majority were there for Twilight's Bella, Edward and Jacob.
So how was the Essex girl - relatively new to the fame game compared with some of the acting stalwarts on last night's Twilight Breaking Dawn Part 1 red carpet - going to compete for camera time with Robert Pattinson's vampish charm, Kristen Stewart's achingly cool approach and Taylor Lautner's buff body?
By wearing a sideless dress of course! A dress that showed so much flesh we can basically imagine her butt naked. Obviously she didn't fancy wasting such a chance because of a little thing called underwear, but if you were wondering just how that dress stayed in place, then luckily for you, Lauren, 28, took to her Twitter page before the event to let everyone in on her style secret.
She wrote: "On way to Twilight prem w/ @LaurenGoodger, hope we aint too late! I musta used a whole roll of tit tape on my dress, pls stay in place!! Ha." (sic)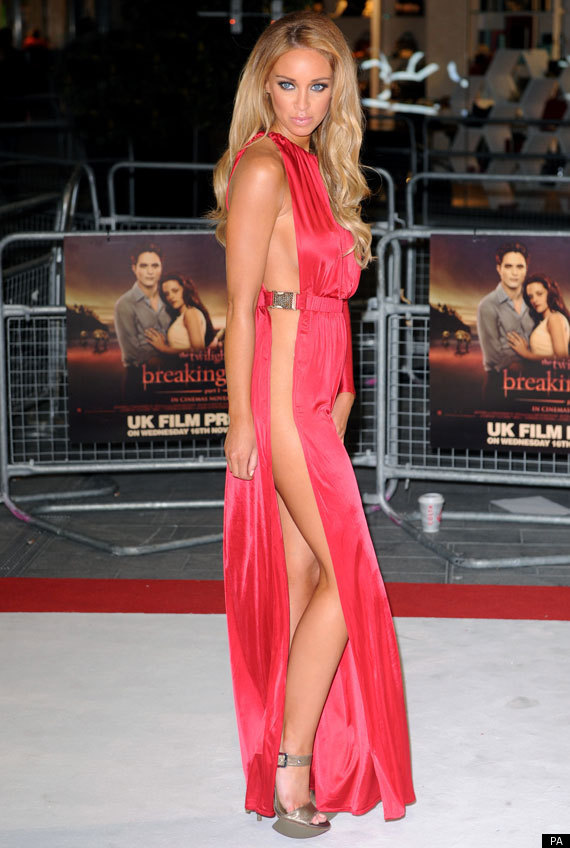 SLIDESHOW: See the Twilight actors in all their finery at last night's premiere...