Students from Tudor Grange Academy, Solihull, have spoken of their "life-changing" trip to China, which was awarded as a prize after they won a sustainability award.
Jenna Hyde, a member of the winning team, told the Huffington Post UK was a "once in a lifetime opportunity" for her and four others.
The team entered the sustainability category in the Academy Excellence Awards, which required students to develop a business idea outlining the model in a five-minute presentation. The Tudor Grange team put forward their idea of a bio-gas converter which involved production at a community level with incentives to involve locals to see the benefits of recycling waste and were then questioned by a panel of judges.
After fighting off competition form older students, the GCSE group won the award and were given a "money can't buy" prize to visit Nottingham University's twin institution in Ningbo, China. Hyde, along with fellow Year 11 pupils Haroon Amjad, Emily Beech, Vinay Sharma, and Jordanne Stevenson, travelled to the city, one of the oldest in China, and spent seven nights at the university.
"While we were there we worked with many of the students to help and support the SIFE charity, which helps provide work such as making handkerchiefs for laid off women workers", Hyde explained.
During the trip the students, who were accompanied by their teacher, had the opportunity to visit one of the women supported by the UK charity.
Teenager Stevenson described the experience as "moving and emotional".
"It made us all realise how lucky we are in our lives, and encouraged us to want to help the SIFE charity where ever possible", he said. "It was a real honour to be able to attend this once in a lifetime trip. We'll probably never get a chance like this again."
The students were also treated to a day trip to Shanghai, which Jenna described as a "superb experience".
"Shanghai was definitely my favourite city I have ever visited - the skylines in particular were exquisite", she told the Huffington Post.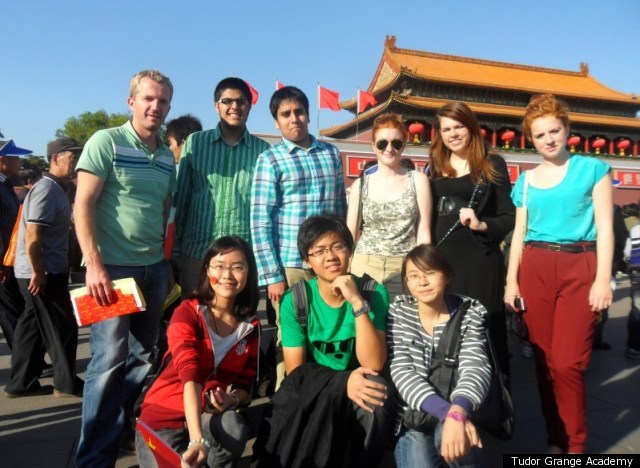 The Tudor Grange students (back row) with their teacher (back left) and students from the Ningbo University
As a result of the trip, some of the students said they were "seriously contemplating" attending university abroad, with particular consideration to China after experience the opportunities provided by international further education.
Sharma added he was "unbelievably grateful" for the opportunity. "We've seen and experienced loads of things here we could only ever dream of.
"I'm really thankful to Nottingham University for this incredible trip."