At long last! Cheryl Cole has finally had a bit of a dig at her X Factor USA replacement Nicole Scherzinger.
Cheryl was famously axed from the show and replaced with the Pussycat Doll, and has kept silent about the whole incident ever since.
But she's finally stopped with the goody-two-shoes act and had a pop at her rival.
In an interview on Lorraine this morning, the singer was defending her infamous fashion disaster on her first day on The X Factor USA, when she appeared to make an aside at Nicole after she stepped out in a similar outfit just days after replacing Cheryl.
"I don't give a s*** if everybody else didn't like [my trousers]," she said.
"I'm not being funny, but everybody else started wearing orange and purple. It's a fact."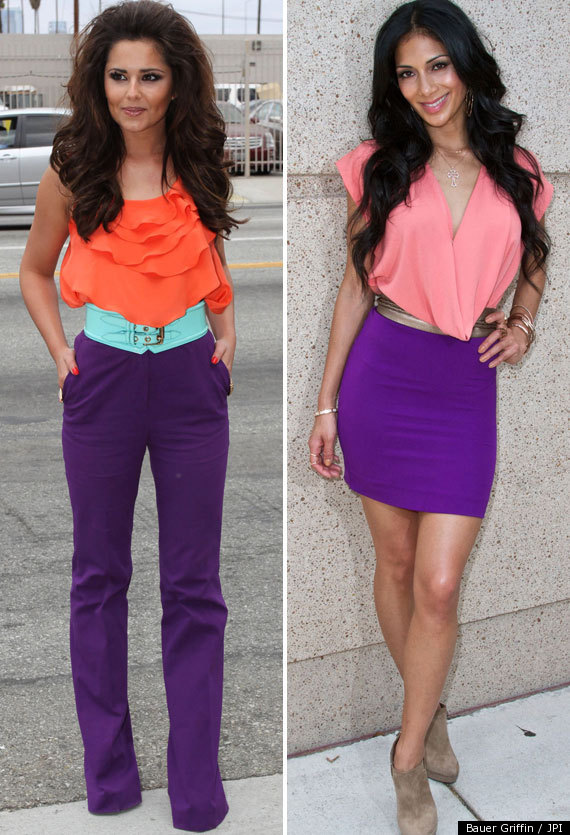 It's not only Cheryl who is making digs at Nicole either.
The honeymoon between Nicole and Simon Cowell looks like it is well and truly over after he told her to 'get lost' during last night's X Factor USA.
The pair had been sniping at each other throughout the show after Simon said he was looking forward to the release of a Nicole voodoo doll, but they really came to blows when he begun to criticise one of Nicole's acts.
As Simon - who confirmed today that he is returning to Britain's Got Talent - gave his comments, Nicole defended her act saying they were 'lost in the music'.
The king of put-downs then quipped back: "Why don't you just get lost?"
It comes after the news the pair have fallen out and he is planning for her to swap roles with Kelly Rowland in the UK for the next series of the show.
Despite denying the claims, Simon did tell ET Online that Kelly may have been a better fit on the panel.
"I think Kelly maybe in poor old Nicole's position would have been a better choice," he said.
Oh dear. We almost feel sorry for Nicole.