1. Adele Storms The Brits
Adele knocked the music world for six with her Brits performance in February. With just a piano, her gorgeous voice and a stripped-down song about lost love, the 23-year-old was clearly the best act of the night. Her universally-praised performance of Someone Like You needs no further description, it was simply breathtaking. Her Brits performance boosted sales of her single, shooting it to number one, and now, at the end of 2011, the soul singer has sold 13 million copies of her sophomore album 21, been nominated for six Grammy awards and was just named Billboard's Artist of the Year.
2. Beyonce Rocks Glastonbury
Beyonce proved she knows how to shake more than just her booty as she gave Glastonbury the biggest shake-up it's seen since, well, her hubby Jay Z turned it Hip Hop. The Crazy In Love singer was not only the first female to headline the pyramid stage in a quarter of a century, but also the one of the most impressive acts the festival has ever seen. Don't believe us? Watch the whole hour-and-a-half performance below. B had enough stamina to prove to all her naysayers she deserved her spot (in hot-pants) on that stage.
3. The Stone Roses Reunite
When The Stone Roses reformed in October after a 15-year split, they set a record by selling 220,000 tickets for three outdoor dates in Manchester in little over an hour. They were a Twitter-trending topic for days and set fans into a frenzy of excitement when they announced plans to release a new studio album before going on tour next June. The band, made up of John Squire, Gary "Mani" Mounfield, Ian Brown and Alan "Reni" Wren are synonymous with the Madchester sound and scene of the 1990s and inspired scores of other groups, despite only releasing two albums. And now it seems a whole new generation are about to tap in.
4. Good Girl Gone Bad?
2011 has seen Rihanna's performances and actions branded "lewd" and "offensive" on a weekly basis. She's upset critics by posing with cigarettes, by wearing as little as she can on tour and by performing lyrics too rude to write down.
Her video for We Found Love, a souped-up dysfunctional love-fest, has been ruled unsuitable for France's daytime television, but the truly defining moment of a year in Rihanna's raunchiness has to be the time the 23-year-old switched from a flannel-checked shirt into a stars-and-stripes bikini, a red bra, a mesh black top, and finally went topless in an Irish farmer's field, causing him to climb off his tractor to protest. The Rihanna headlines may not all have been positive, but the music is as good as ever.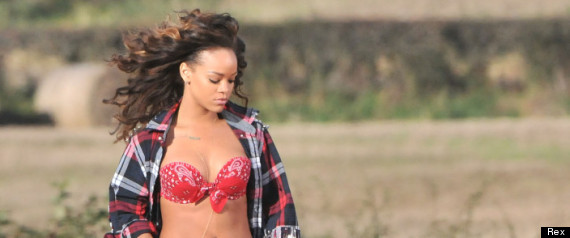 5. Tragedy!
It was 10 years ago that Lisa, Faye, H, Lee and Claire took their final bow as the five-piece, line-dancing pop act Steps - ten years since the band behind Deeper Shade of Blue, 5,6,7,8, and Better The Devil You Know announced they were moving away from matching outfits and each other. 10 years on, the anger and resentment seems as strong as ever, and if it wasn't for the money Sky Living stumped up to put them in a reality show titled Steps The Reunion, there's a definite sense that some of those involved would rather not go through this gruelling comeback in front of the cameras. But hey, what does that matter? They're back together! There's going to be a tour and everything! And (for some reason) everyone's super excited about this. Wanting a piece of the action, S Club 7 are now rumoured to be reuniting, surely a sign that a musical apocalypse is coming. Who will it be next year - Northern Line?