It seems everyone has their own opinion on One Direction's Harry Styles dating Xtra Factor presenter Caroline Flack.
Only last week WAG Alex Gerrad blasted the relationship between 17-year-old Harry and 32-year-old Caroline in her OK magazine column, and now reality star Kerry Katona is the latest celeb to wade in on the controversy.
Speaking to Star magazine, the 31-year-old called the romance 'wrong', despite her flirtation with 19-year-old Lucien Laviscount during her time on Celebrity Big Brother earlier this year.
"Stop. That is so wrong. I just couldn't be s****ing someone who was going through puberty!" she said Caroline and Harry.
"If it's a Demi/Ashton situation, that's different because they're older. But Harry Styles is just a 17-year-old boy, so in my eyes it's just wrong. He's not long left school. He's not even allowed to drink yet."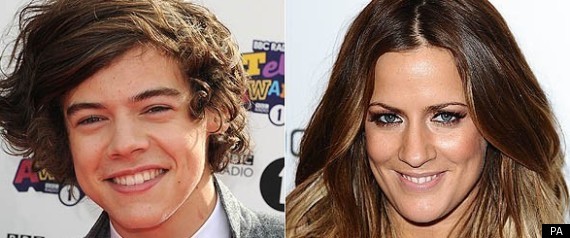 Among all the criticism, it's a good job Caroline's got her pal Olly Murs to fight her corner for her.
The singer defended the pair, telling the Daily Star the intrusion into their lives was 'unfair'.
"Nothing's concrete. It's all good," he said.
"Everyone tweets what they want but no-one knows the inside truth - that's private. All this taking pictures and stuff is unfair."
Earlier this month, Caroline defended the relationship in a candid interview in Now magazine, blaming social attitudes on the furore.
"I feel like I shouldn't have to worry about what I do. But it's a social thing that people aren't accepting of big age gaps," she said.
"Some people tend to see the negative immediately and that's what I find really strange.
"If two people like each other and get on, why does anyone else find a negative in it? I know it's human nature for everyone to gossip. But why say it's bad? No one's being hurt at all in anyway."