Severe weather warnings have been issued for the UK, with parts of Scotland being given an "amber" alert by the Met Office: one below the most extreme weather warning possible.
Gale-force winds have been raging across parts of Fife, Tayside and central Scotland, with squalls expected to reach up to 90mph as the evening draws in. Northern Ireland is also likely to be affected by high-speed winds.
Transport chaos is expected to reign across central, southern and western regions, and both Skye and Forth road bridges have been closed to high-sided vehicles. The Tay bridge has been closed altogether after one forceful gust was recorded travelling at 87 mph.
Scotland has also been battered by heavy rain, and flood warnings have been issued for coastal regions. Drivers have been warned to travel carefully through affected regions.
"The impact of these winds is likely to be tree damage and tiles blown off roofs, flying debris, closure of bridges or roads, power cuts and damage to overhead rail power lines." said BBC Scotland weather forecaster Christopher Blanchett.
Tepid temperatures over Christmas meant it was the mildest day for 14 years, and a balmy boxing day saw more records broken, with 26 December being the warmest for 28 years.
Addled Autumn sights have flummoxed festive walkers, who have spotted apples, blackberries and brambles on post-Christmas lunch rambles, sights more usually seen in October.
Bathers enjoyed the mild weather and warm naturally heated waters on the rooftop pool at Thermae Bath Spa, Bath, in the unusually high December temperatures.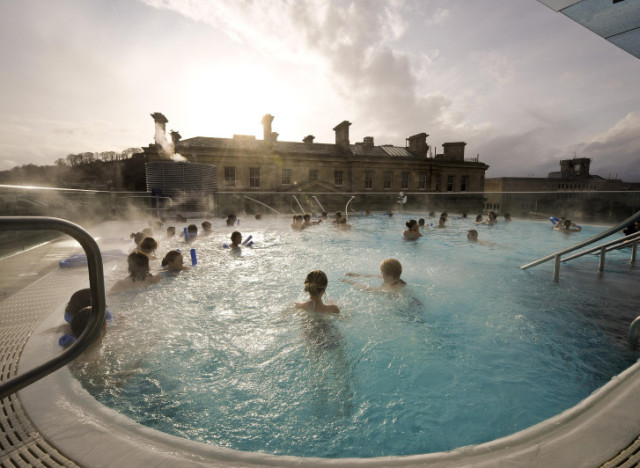 Although forecasters have suggested that the new year will also be mild, it seems it's going to get worse before it gets better.