Actress Helena Bonham Carter, war reporter Alex Crawford, broadcaster Lorraine Kelly, fashion entrepreneur Barbara Hulanicki and author Rachel Billington are among the women to be honoured by the Queen in the New Years Honours List.
Bonham Carter, who played the Queen mother in the award winning film The Kings Speech, has been awarded a CBE for services to drama.
The 45-year-old Oscar-nominated actress has starred in films including A Room with a View, The Wings of the Dove as well as taking on the role of Bellatrix Lestrange in the Harry Potter series. Star of the small screen Lorraine Kelly has been awarded an OBE for services to charity and the Armed Forces. The broadcaster, who presents Lorraine on ITV, said she was "thrilled and deeply honoured".
The popular TV host has long been a supporter of the military and in 2009 she was appointed to the role of honorary colonel of the Black Watch battalion's Army Cadet Force (ACF).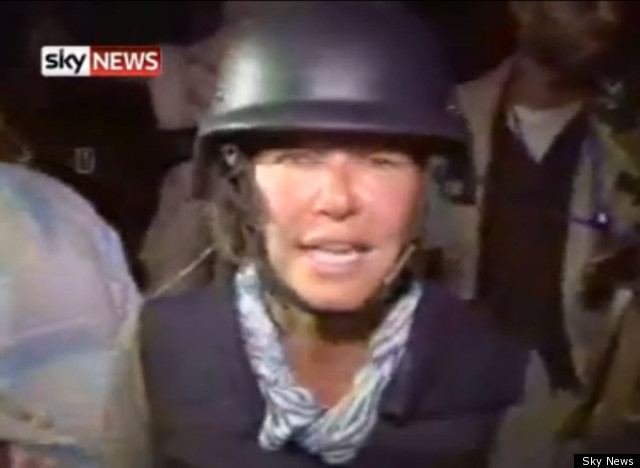 Sky News special correspondent Alex Crawford has also been awarded a OBE for her courageous coverage of the Libyan uprising.
Dodging bullets and mortar shells, the 49-year-old mother of four reported from inside the cities of Misrata and Zawiya, showing the full force of Gaddafi's assault against rebel fighters. But it was her broadcast from the back of a rebel truck as it entered Tripoli, broadcast to the world with a camera plugged into a cigarette lighter charger, that really stole the show.
The Sky News reporter also went 'viral' after interviewing a group of Libyans who had raided the deposed leader's Bab al-Azizia compound - most notably one who managed to grab Gaddafi's hat.
Crawford said she was "staggered and honoured" by the award.
The war reporter, who now lives in South Africa, began her career at the Wokingham Times and is a three-time winner of the Royal Television Society Journalist of the Year award.
"I am staggered and honoured and can't quite believe this is not a prank thought up by one of my more mischievous colleagues. TV news is never about just one person," she said.
"Behind me and beside me are my fellow reporters, producers, camera crews, editors and directors. It's a genuine team effort and this fantastic accolade is for all of us." Author Rachel Billington has been awarded an OBE for her writing. The 69-year-old written 20 adult novels, four childrens' novels, five religious books for children and three non-fiction books.
She also writes for newspapers both in the UK and US including a three year position as a columnist for The Sunday Telegraph. Polish-born Barbara Hulanicki, who started clothing store Biba, is made OBE for services to fashion. The 75-year-old began her career in the early 1960′s working as a freelance fashion illustrator. Hulanicki launched Biba in 1964 with her husband, but it was closed in 1974.
She acts as a consultant to a number fashion and home ware retailers, with her most recent collaboration being with George at Asda.