Keepers at a Milwaukee zoo have launched an 'Apps for Apes' project which could see Orangutans being given iPads to video-chat with primates in other zoos.
Bosses at Orangutan Outreach, a US charity which protects orangutans in the wild and looks after orphaned apes, started exposing their orangutans to an iPad in May.
Since then they've allowed the hairy ones to use the Apple gizmos for two short periods each week -- in a bid to give them the constant stimulation they need to prevent getting bored and depressed.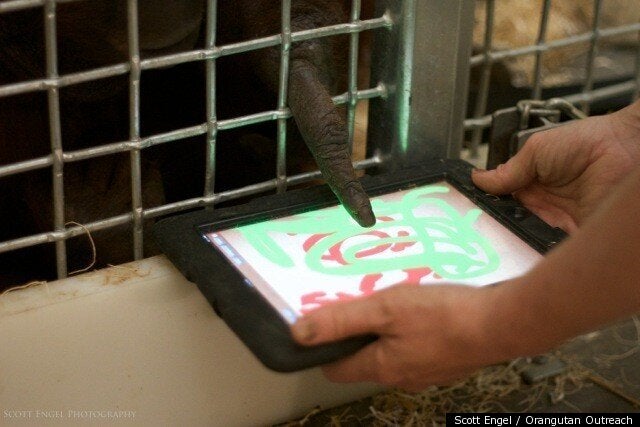 An orangutan extends a finger to prod the screen
The Orangutans have already used the iPads (under the guidance of keepers) to draw artworks on the touchscreen, watch videos of other creatures and see footage of themselves.
But now conservationist, Richard Zimmerman, says the next step is getting the apes to use services like Skype to video chat with orangutans in other zoos.
"The orangutans loved seeing videos of themselves and they like seeing videos of the orangutans who are in the other end of the enclosure. So if we incorporate cameras, they can watch each other," he told the BBC.
However, not only will wifi need installing in the enclosures, but the iPads (which are donated by members of the public to the charity) will need to be made more hard-wearing.
"As soon as we hand them over to the orangutans, we figure the lifespan could be as little as 15 seconds - whether they meticulously take them apart or just snap them in half," said Zimmerman, who would like to consult with Apple engineers to make the iPads as 'orangutan-proof' as possible.
He added that the work of Orangutan Outreach is particularly important because Orangutans are critically endangered in the wild and their habitat is being destroyed by timber and palm oil companies.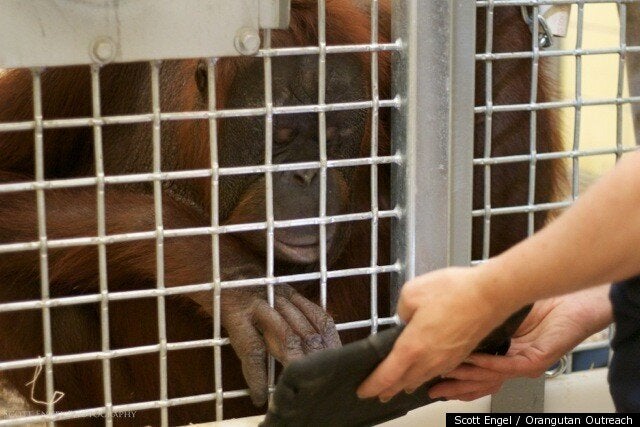 The apes are susceptible to boredom and depression