Commuters faced a grim start to the new year, as the first full working day of 2012 was marked by fare rises, union protests, driving rain and stormy weather.
Signal failures added mishap to rail travellers' misery as they returned from their festive break, while winds gusting up to 95mph, caused chaos on train tracks across Britain.
The Met Office issued severe weather warnings for many regions of the UK on Tuesday.
Uprooted trees have also wreaked havoc on Britain's roads. In Surrey a bus driver had to be freed when a large tree fell on his vehicle while in Bristol the driver of a Ford Fiesta was taken to hospital after the car ended up in a ditch.
Police in Cumbria said a wagon overturned on the M6 after gusts of up to 70mph, and said felled trees had caused other closures. The strong winds were also blamed for a fire in Bangor caused by a power surge.
Gale-force winds caused delays on the Dartford Crossing between Kent and Essex, while East Coast main line trains between London and Scotland had to start and terminate at Newcastle upon Tyne.
In Northern Ireland gusts have been recorded of more than 105mph at Malin Head in Country Donegal while ferry crossings were suspended between Larne and Cairnryan.
Rescue teams were also reported to be helping a 40ft yacht which is stricken with an injured crew member onboard in heavy seas off Kent.
High winds toppled a 40ft section of shop front on to the pavement in the Shirley area of Southampton, but no one was injured and police cordoned it off.
The grandstand at Epsom racecourse had been "blown off" was also blown off, the BBC reported, as high winds struck the building.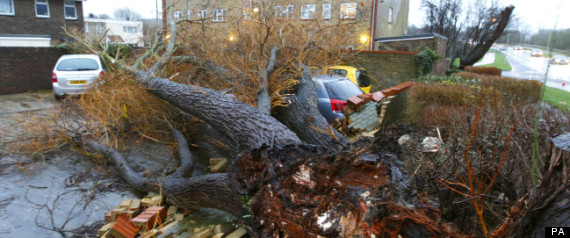 Billy Payne, a forecaster for MeteoGroup, the weather division of the Press Association, said: "As low pressure comes in, central and south Scotland will bear the brunt of the winds today. We will see gusts of 70mph to 80mph, even 85mph in places."
He warned of "heavy rain, stormy winds and severe gales with damaging gusts", but said the rain should clear most parts of the country by this afternoon.
The first journey to work of the new year has also been marred by a sobering rise of 6% in commuter fares. It was marked by a "fair fares" protest at St Pancras station in London.
Passengers shaking rain off their coats as they arrived in the station were met by a New Orleans-style jazz band dressed as the Thomas the Tank Engine character the Fat Controller.
Other protesters from the TSSA rail union carried placards depicting Prime Minister David Cameron as the Fat Controller.
Members of the Campaign for Better Transport (CBT) joined in the protest, handing out leaflets inviting commuters to contact the Treasury to tell Chancellor George Osborne exactly what they thought of the fare increases, which took effect yesterday.
TSSA general secretary Manuel Cortes said: "This is just the start of three years of real pain for all passengers.
"The £4,000 annual season ticket is now commonplace in south east London. By 2015, the £5,000 annual season ticket will be commonplace as well, thanks to ministers insisting on (RPI) inflation plus an extra 3% on top of that in 2013 and 2014.
"Mr Cameron talks glibly about everyone sharing the pain. Well, rail passengers are taking the biggest share of the pain while ministers and MPs travel for free on the most expensive network in Europe."
London Underground and London bus fares also went up from January 2 - rising by an average of 5.6%.
This was a lower-than-planned figure following a Government cash injection of £136 million.
The government, train companies and London Mayor Boris Johnson are all adamant that fare rises are necessary to sustain much-needed investment in the Tube and main line railway, which includes projects such as Crossrail and Thameslink.
The government is known to be looking at the whole question of fares and there were reports today that commuters might be spared the full horror of an RPI plus 3% rise next year.
The January 2013 rise will depend on the RPI inflation figure for July 2012 which could be much lower than July's 2011 RPI which determined this month's rise.
Campaign for Better Transport chief executive Stephen Joseph said at St Pancras today: "We would welcome any move by the Government to make things easier for commuters."
Shadow transport secretary Maria Eagle was also at today's protest.
She said: "Rail fares and rail costs are too high. The rail system is fractured and inefficient."
Amid the mid-winter gloom in London today, passengers spoke of their outrage at the increases.
Civil servant Craig Marshall, 47, from Northwood in north west London, said he had just paid £129 for a one-way ordinary single ticket from King's Cross to Edinburgh.
"I am not very happy at all at these fare rises," he said. "Passengers, once again, are paying for the failure of train companies."
Accountant Martin Lunan, 27, from Mile End, east London, was travelling from St Pancras station in London to Leicester.
He said: "I would have been happy to pay increases if the services improved. I recognise that higher fares pay for more investment in the rail and Tube networks but I don't think we're seeing better services."
Another passenger departing from St Pancras, who gave his name as Freeman from Lewisham in south east London, said he had actually managed to buy an advance ticket to Derby for less than he normally paid for the journey.
He went on: "I'm happy with the ticket I've got today but I'm fairly cynical about these fare rises.
"It would be nice to think the extra money will go on improving services, but I doubt it's going to make any difference."
Buses had to replace trains on some East Coast services between London and Harrogate and Hull. The wintry weather and its knock-on effect on transport is expected to continue.