Ed Miliband game shows is trending on social networking site twitter after the Labour Leader's tribute to 'Blockbusters' host Bob Holness who has died aged 83, went horribly wrong.
Instead of typing "Sorry to hear Bob Holness has died. A generation will remember him fondly from Blockbusters", Ed Miliband substituted Blockbusters for 'Blackbusters.'
It's a faux pas that is doubly embarrassing for the Labour leader, coming as it does after Diane Abbott's controversial tweet yesterday, inferring that 'white people' like to divide and rule.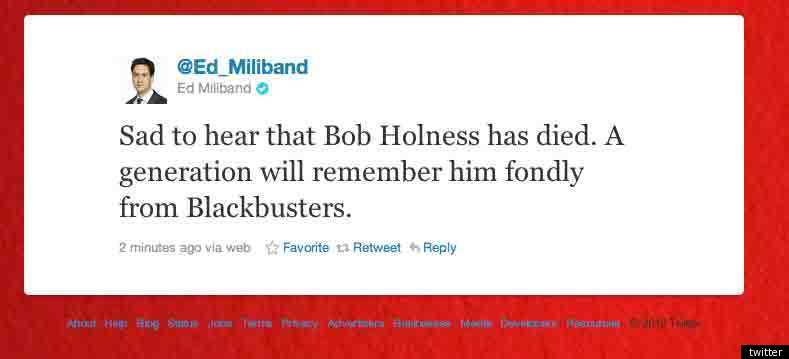 Miliband gave Abbott a severe dressing down after the tweet, which is possibly why he scurried to delete the offending comment off the social networking site. However it was too late: many tweeters had already screen grabbed the 'evidence' and so 'Blackbusters' went viral.
First 'Blackbusters' trended on Twitter, then it was 'Oh Ed' and now 'EdMilibandgameshows'. Huffington Post UK selects some of the best Ed Miliband game shows, because the Labour party must be glad it's the weekend: