Dozens of friends and former pupils of a retired schoolteacher found murdered at her riverside cottage have staged a candlelit vigil to pay their respects to her memory.
More than 60 people gathered to lay flowers and place candles on a bridge near the home of 77-year-old Betty Yates, who was found dead on Wednesday in north Worcestershire.
Former colleagues of the much-loved pensioner - who was described as "everyone's favourite teacher" - also took part in the vigil close to a police cordon which remains in place around her home.
Mrs Yates, who taught generations of children in the Kidderminster area, was found stabbed at her home beside a track overlooking the River Severn near Bewdley, Worcestershire, after concerns were raised for her welfare.
Among those attending the vigil in her memory was a friend of Mrs Yates who had received flowers from the pensioner shortly before Christmas, and two cousins who were taught by her at Kidderminster's St John Middle School in 1992.
Fellow members of Bewdley Civic Society also turned out to remember Mrs Yates, who was well known locally for her involvement with book-reading and walking clubs, as well as the Wyre Forest's University of the Third Age.
Hayley Williams, who was taught by Mrs Yates in the mid-1980s, described her as an "amazing" teacher who was universally loved.
"She taught everybody whether they were in her class or not," Ms Williams, 38, said. "She just had this unique way of teaching and for whatever reason it worked."
Describing her reaction to news of Mrs Yates' murder as one of total shock, Ms Williams added: "I just couldn't believe it. Nobody deserves that but to find out it was such a much-loved member of the community - everybody knew her - just makes it even more tragic."
Pat Brown, a friend of Mrs Yates who often went swimming with her at a local hotel, described her as a fantastic person whose popularity could be judged by the large turn-out at the vigil.
"She was brilliant, always happy, always smiling and always helpful," Mrs Brown told reporters. "I did a little job for her before Christmas and she sent me a beautiful bunch of flowers to say thank you.
"I hadn't seen her since the day before Christmas Eve - when she was going off to her daughter's. She always wanted to help and you couldn't ask for a better person."
Other friends told how Mrs Yates loved being at the cottage, where she had lived for more than 30 years.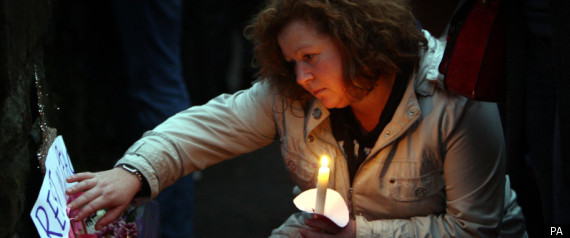 One former colleague, who did not want to be named, said: "She was a lovely lady, very energetic and kind, and she was obviously special to the children she taught."
Cousins Verity Worthington and Charlotte Mayall, who were taught by Mrs Yates when they were Year-5 pupils in 1992, brought a copy of their class photograph to the bridge.
"She was very warm and very approachable," Ms Mayall, 29, said. "She used to organise walks to pick cherries on summer evenings outside of school and there aren't many teachers who do that."
In a statement issued by West Mercia Police yesterday, the son and daughter of Mrs Yates spoke of their shock and sadness at her murder and described her as "vivacious, independent and popular".
Appealing for local people to assist the murder hunt, her son David and daughter Hazel said: "We do not understand why or how anybody could have done this and we would urge anyone who has any idea about who is responsible or has any information at all to come forward and tell the police.
"Naturally we are extremely shocked and saddened at the manner of her death and at this time we do not know whether we will ever come to terms with that.
"Thankfully we were able to spend some quality time together when we all got together over Christmas and those are now our final, treasured memories.
"We will always remember her with love and affection - as well as being our mother she was a true lady."
Forensic teams are still conducting inquiries at the cottage, named Riverscroft, at the end of a track running along the western bank of the Severn.
Mrs Yates had lived at the house alone for the past seven years following the death of her husband, who was a director of a company based in Pensnett, near Dudley, West Midlands.
More than 40 police officers and staff are working on the murder inquiry, based at a major incident room set up at Stourport police station.
Meanwhile, a spokesman for West Mercia Police said officers were aware of a posting on a Facebook tribute page made by someone who claimed to know details of the circumstances surrounding the murder.
The posting, which has since been removed from the social networking site, is believed to have claimed that Mrs Yates was killed by a burglar who thought her cottage was empty.
Anyone with information about the offence should call the major incident room at Stourport police station on 0300 333 3000 or contact the independent charity Crimestoppers on 0800 555 111.