Hacker group Anonymous has shutdown the websites of the US Department of Justice, the FBI, the Record Industry Association of America, the Motion Picture Association of America and Universal Music overnight.
The largest ever hack by the infamous group was in protest against the US government's forced closure of the popular file-sharing site, Megaupload.
Dubbed "operation payback", with a manifesto published on a Wikipedia entry page, the attack began as retaliation to distributed denial of service (DDoS) directed at the Megaupload torrent site.
CNN reports that federal agents arrested the leaders of Megaupload.com on Thursday 19 January 2012.
Some hours later, a DOJ spokeswoman told CNNMoney "We are having website problems, but we're not sure what it's from."
Anonymous took to Twitter, writing a 140 character admission "justice.gov & universalmusic.com TANGO DOWN! You should have EXPECT US! #Megaupload"
"It was in retaliation for Megaupload, as was the concurrent attack on Justice.org," Anonymous operative Barrett Brown told news website RT on Thursday afternoon.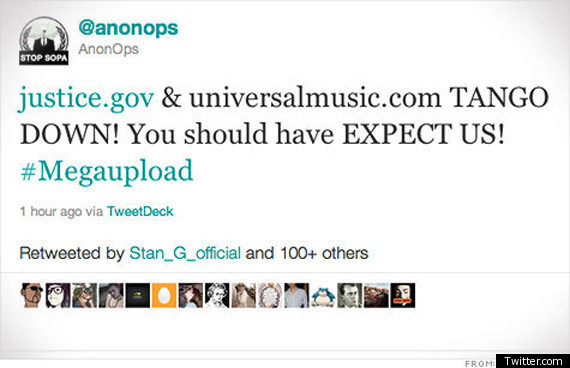 Music website Tone Deaf reports that Megaupload were recently suing Universal Music Group for misuse of the US legislation designed to stop copyright theft.
According to that site, Universal had been trying to stop Megaupload from broadcasting a promotional video which featured a number of artists from the Universal stable.
The hack is thought to be Anonymous's largest ever attack.
The Universal Music website remains down on Friday 20 January 2012, carrying a message reading "The Site is under maintenance. Please expect it to be back shortly."
Megaupload was run by Kim Dotcom, 37, from a $30 million mansion in Auckland, according to Stuff.nz.
He was arrested in New Zealand along with co-accused Finn Batato, 38, and chief technical officer and co-founder Mathias Ortmann, 40, both from Germany, and Dutch national Bram van der Kolk, 29.
Unofficial anonymous spokesperson Barrett Brown told RT.com that "more is coming" and that the loosely aligned group of hackers will "damage campaign raising abilities of remaining Democrats who support SOPA."
The Stop Online Piracy Act is making its way through the US Congress, and if passed, would shut down file sharing sites like Megaupload.
What is SOPA? Read more in this Huffington Post article.