New Zealand Police have arrested the founder of Megaupload, Kim Dotcom, on his birthday in his multi-million dollar mansion.
Stuff.co.nz reports that the file-sharing website boss retreated behind a series of electronic locks and barricaded himself in a safe room with a gun before police were able to apprehend him.
New Zealand Police told the Wall Street Journal: "We were first contacted by the FBI earlier in 2011 across a number of issues involved in the investigation and then when we established a number of large people of interest… were going to be in New Zealand at this time (for the birthday) we worked on facilitating the arrests."
The FBI released a statement calling the arrests "among the largest criminal copyright cases ever brought by the United States."
Dotcom was arrested alongside six colleagues at the Megaupload founder.
Those arrested include:
Finn Batato, 38, a citizen and resident of Germany, who is the chief marketing officer.
Julius Bencko, 35, a citizen and resident of Slovakia, who is the graphic designer.
Sven Echternach, 39, a citizen and resident of Germany, who is the head of business development.
Mathias Ortmann, 40, a citizen of Germany and resident of both Germany and Hong Kong, who is the chief technical officer, co-founder and director.
Andrus Nomm, 32, a citizen of Estonia and resident of both Turkey and Estonia, who is a software programmer and head of the development software division.
Bram van der Kolk, aka Bramos, 29, a Dutch citizen and resident of both the Netherlands and New Zealand, who oversees programming and the underlying network structure for the Mega conspiracy websites.
Rick Shera, a leading New Zealand Internet lawyer, told The Huffington Post UK via email: "Dotcom Mansion (yes that's what it's called) is a large chateau-like mansion set in 120 acres of manicured property in Coatesville. Coatesville is a rural area with mainly lifestyle blocks (minimum size property about 5 acres) about 30 minutes north of Auckland CBD."
Because the mansion is set well away from the boundary, it was not possible for onlookers to see the arrest taking place.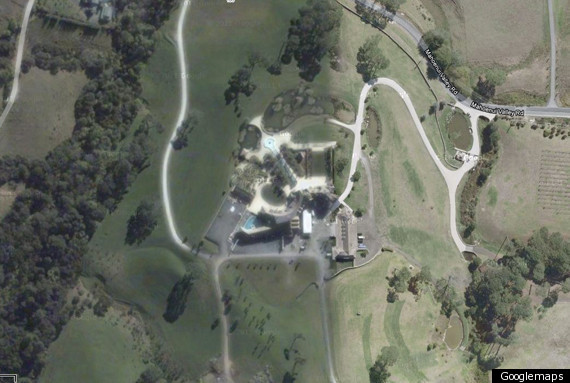 Shera added: "Driving past this morning a couple of hours after the operation commenced today, there was a heavy police presence with marked and unmarked police cars at all exits. Neighbours have reported helicopters circling earlier."
According to TVNZ, the accused face a maximum penalty of 20 years in prison for racketeering, 20 years for money laundering, five years for conspiracy to commit copyright infringement and five years on other related charges.
The group appeared in the North Shore District Court in January 2012 and were refused bail. They will appear in court again on Monday.
According to Scoop, a range of high value assets were seized at the mansion, including a Rolls Royce Phantom Drophead Coupe valued at more than NZ$500,000. That site also reports that more than NZ $10 million has also been seized from New Zealand banks.
The arrests follow a long investigation by New Zealand police and the FBI. The US seeks to extradite the men to face charges in the United States.
Shera said that while the seven were arrested under US law, they could be prosecuted in New Zealand: "If the activities which are alleged were within NZ jurisdiction, then yes, they could be prosecuted here (our copyright law is similar to the UK's).
"The Police have advised that no NZ charges are to be laid - it is all related to extradition proceedings (a remarkable coincidence given the guy about to be extradited for copyright infringement from UK)."
Shera added: "The thing that concerns me in this is the ex parte takedown of the site - seemingly something that US authorities/courts have decided is fair no matter whether the site is in the US or elsewhere and no matter the impact on third parties storing legitimate material with the site. Who needs SOPA/PIPA?!"