Geordie Shore returns to TV this month, bringing with it more romps, rows and drink-fuelled antics filmed in the centre of Newcastle's nightlife.
The reality TV sensation, based on the US hit Jersey Shore, pulled in over 300,000 viewers last series - MTV's largest adult audience in three years.
To me, its appeal has always seemed to be that viewers love to mock the Geordie lads and lasses' outrageous, unadulterated antics, which are offered up to the cameras with no shame.
But is there more to it? And, after seeing what happened last series, why have two new over-tanned and under-dressed recruits - Ricci Guarnaccio and Rebecca Walker - volunteered to join a show that could ruin any respectable career prospect in 45 minutes flat?
Ahead of meeting the Geordie Shore gang, I admit I felt slightly nervous. I'd never seen the show, but naively thought I'd read enough about what they get up to to get a good idea of what they were about...
As I waited in an extravagantly carved booth in Camden's Gilgamesh restaurant in London for the cast to join me, I could hear the sound of frantic hairspraying, cackling laughter and the clip of cheap stilettos across the wooden floor. Horrendously overdone for a daytime interview, check. I thought I had them sussed.
What I wasn't expecting was their warmth, humility and kindness. I had no idea I would be greeted with hugs and kisses - much more than the stiff handshake A-listers usually serve up.
Of course, the Geordie Shore gang aren't actors. They haven't had years of being told how to behave, in fact their fame is based around their misbehaving. And as I discovered, it makes them much nicer people to chat to.
At first, I spoke to the girls, Vicky Pattison, Holly Hagan, Sophie Kasaei and Charlotte-Letitia Crosby, all heavily made up in party dresses and impressive winter tans.
I quickly learned that, although thousands of viewers are happy to tune in to watch them on TV, the overall reaction from the public towards the Geordie Shore cast hasn't been necessarily warm:
"We get positive reactions to our face but a lot of the grief is on Twitter. We've all been told to kill ourselves, I've been told to slit my wrists once," explained Sophie, a fun-loving former call centre worker.
When the show first aired last May, more than 23,000 joined a Facebook page - called R.I.P Geordie Pride - slamming the show and the cast for its portrayal of Newcastle's culture.
Holly, who recently made headlines for rating X Factor tearaway Frankie Cocozza a 4/10 in bed, had an explanation for the negative feedback:
"No one sees a show like ours, where people walk around without makeup on and don't dress up every second of the day. And they're not used to that, they're used to people being glamorous, so the people that are on Twitter are saying things like we're ugly," she reasoned.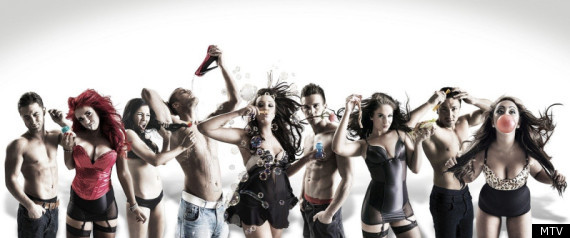 Feisty Vicky Pattison added: "If we're happy it's on camera, if we're upset it's on camera. We're just four normal girls. If we're tired or hungover it's on camera; we're just ourselves and I think we're good role models. Obviously we're not the best, but we are good in that sense."
Rest assured, if scenes of the Geordie gang getting "lashed", going out on the pull in the Toon and ultimately vomiting on-screen are what you tune in for, the cast won't be toning down their antics for anyone.
"I threw up in my own bed", Holly boasted when asked what we can look forward to in series 2. "I was awake, I just couldn't be arsed to go anywhere," she added.
But is there anything they regret doing in the last series that they won't be doing again?
"Every single night I couldn't remember anything. I regret it cause when I see it I think I wanted to do it but I could have done it somewhere else," said Charlotte.
Vicky explained: "I think it's hard because we just think we're drunk, but as soon as you have a momentary lapse about the cameras being there you just think 'oh yeah I'm having fun with the girls'. But no you're f***ing not - you're having fun in front of the entire nation.
"You just forget so it's easy to have regrets afterwards, I can hold my hand up and say I regret loads of stuff, but you learn from your mistakes and there's no better way to learn in life."
Charlotte concurred: "I've learned a lot from the first series, I hate what I was like, I was like a little girl. I'm not going to say I'm now a woman, because I hate being called a woman - now I'm an older teenager."
The girls and theire bitching and boozing are just one half of Geordie Shore. For the second series, they're joined by the boys - Jay Gardner, Gaz Beadle, James Tindale and newcomer Ricci Guarnaccio - for four weeks in a big, flashy pad that makes the Big Brother house look like a budget hotel.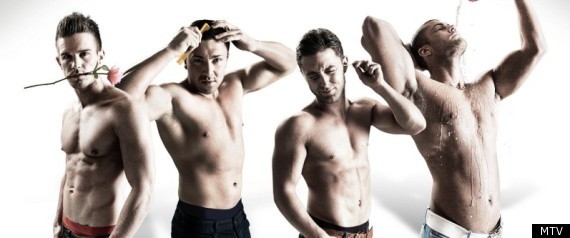 Their lives have also changed dramatically since starring the show. Jay, who prides himself on being vain and materialistic, said: "If you walk down the street people shout out 'Jay' as if they know you."
However, they haven't had to deal with the same sort of online abuse as the girls.
Ladies' man Gaz explained: "At first people said we were representing Newcastle badly but once the shows gone out a bit more, everyone loves it and we don't get any bother at all."
In the reality series, we see the lads wheeling out chat-up lines and working their Geordie charms on the ladies of the North, but surely the girls on Newcastle's strip are growing tired of their Lothario ways?
"It's impossible to have a girlfriend, but pulling wise it's a lot easier," muscle man James noted.
Jay added tastefully: "Lasses literally eat it off the plate."
Despite the boys being deprived of modern pulling tools such as their mobile phones and the internet in the house, they still get what they want by using paper to write girls' numbers down and using the house phones for their booty calls.
Is there anything at all the boys regret happening in series one?
Jay claimed: "I had a sort of thing with Vicky, looking back I would not have done that."
For as long as these eight young people are paid to party, strip and consume insane amounts of Jaeger bombs - they've even recently launched a kebab-inspired perfume, L'eau de Geordie - they're not going to behave for anyone. Then again, we've got a funny feeling they'd be doing the same thing even if the cameras weren't rolling.
The new series of Geordie Shore starts Tuesday 31 January at 10pm, on MTV.