"You have to have a black man and a red head", says Damian Lewis, explaining the American success of his espionage thriller Homeland.
Lewis and his fellow Brit co-star David Harewood have received a fantastic reception in the States for their roles as Sergeant Nicholas Brody, a marine and former prisoner of war, and Director of the CIA Counterterrorism Center David Estes, respectively.
Now Lewis and Harewood are getting the chance to show off their lauded work back home, as Channel 4 brings the drama, loosely based on Gideon Raff's Israeli television series Prisoners of War, to UK screens in February.
The compelling series centres on an American soldier (Brody) who was taken prisoner during the invasion of Iraq in 2003. Left for dead, he miraculously returns to the US after years in captivity and the nation welcomes home their hero. However, tightly-wound CIA officer Carrie, who is battling her own psychological demons, is solely convinced that all is not as innocent as it seems.
Carrie puts her career on the line as she pursues her theory that the intelligence behind his rescue was a setup - and that he may be connected to an Al-Qaeda plot to be carried out on American soil.
At a sneak preview of Homeland at BAFTA's headquarters, with Lewis and Harewood on hand to discuss their roles, it is clear that Homeland is going to become addictive. It's not just a brilliantly-plotted espionage thriller with compelling and fascinating characters, it's also a brave exploration of the difficulties of fighting terrorism a decade after September 11.
But how did they feel when they received the script for the first time - were they sure they were on to a winner?
"It was very exciting. The show sets itself up as a thriller and of course there's a page turner left at the end as he's standing staring at the White House. But what struck me was what they took on thematically, in just an hour's worth of TV. The depth both in incident and character is something we don't see over here," explains Lewis.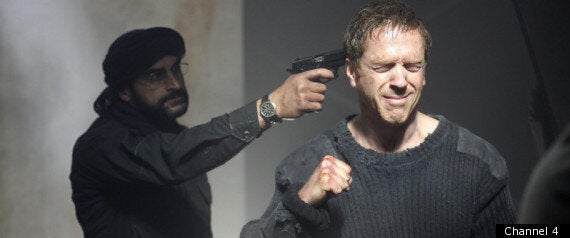 Homeland's success is somewhat surprising in a sense as it's based on a very un-American concept of a traitor within, but Lewis thinks the show's come at a time when Americans are ready to question their own government:
"We film it down in the South surrounded by army bases and army families, if it's going to be contentious anywhere, it's going to be down there. Because the show is certainly left-of-centre politically.
"What's interesting is none of us expected 9/11 to happen, the CIA knew all about it and failed to prevent it from happening, but now we all know much more and there's an even greater sense of uncertainty and paranoia about the way our own governments have acted and this show's reflective of where we are now 10 years later."
Terrorism and conspiracies aren't the only sensitive topics that the show handles with taste. Also included are mental health issues. The show's leading lady is suffering from a bi-polar disorder and Sgt. Brody from post traumatic stress.
Commenting on his co-star who won a Best Actress Globe for her role as Carrie this month and whom he affectionally calls "Danesey", Lewis says: "It's a brave thing to attempt to insert a bi-polar disorder into the heart of a paranoid thriller. It can easily be seen as a gimmick but it conveniently allows us to judge her and wonder whether she's actually suffering from bouts of insanity as to whether we believe her or Brody. You'll see they don't shirk away from it and they embrace it, so I think it's well done."
Homeland isn't an easy watch, there are dark scenes of torture as Brody flashes back to his time of imprisonment in Iraq. But while they're hard on viewers' eyes, Lewis soon learned how to handle them:
"Torture days were flipping cold because you're naked, they're distressing. It was cut here but I had a screwdriver screwed into my shoulder. It leaves me needing a beer after but I don't take my work home with me, I'm not a method actor. I fully engage in my imagination and the imagined world while I'm on set but then I forget all about it - probably too easily."