The Duke of Cambridge has arrived in the Falklands for a tour duty as an RAF search and rescue pilot, the Ministry of Defence confirmed on Thursday afternoon.
His deployment comes as tension continues to simmer between Britain and Argentina over the sovereignty of the territory.
On Tuesday the Royal Navy revealed it was sending one of its most advanced new warships to the area, HMS Dauntless.
Argentina has already sparked controversy by suggesting that the Prince will be wearing the uniform of a "conqueror".
His posting to the remote outcrop, which Buenos Aires calls Las Malvinas, is due to last six weeks.
This year marks the 30th anniversary of the Falklands conflict. Argentina has threatened to effectively impose an economic blockade on the islands by cutting off Chilean flights.
On Wednesday, the president of Argentina, Cristina Fernandez de Kirchner made public a threat to block all flights from Chilean airline LAN, effectively severing any civilian link with the outside world.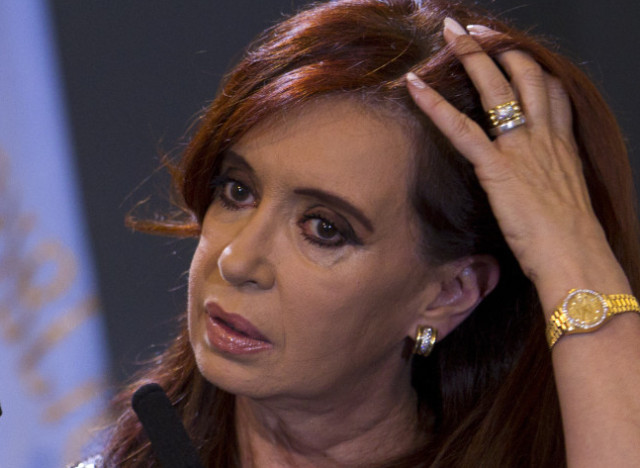 Cristina Fernandez
Even if LAN resisted Argentine pressure to stop flights between Punta Arenas in Chile and Mount Pleasant airport, Argentina could refuse to let the airline use its airspace, which would have the same effect.
Civilians in the Falklands would then be solely reliant on a military flight, an 8,000-mile journey from London via Ascension Island, an island close to the equator, the Guardian reported. This would prove too expensive, effectively blockading the island.
"If the LAN Chile flight is cancelled it would be pretty difficult to resist the already credible thesis that there is an economic blockade of the civilian population of the Falklands," a senior British diplomat told the Guardian on Wednesday
William's arrival on the island follows an announcement that HMS Dauntless, an ultra-modern Type 45 destroyer, is due to set sail for the South Atlantic on her maiden mission in the coming months. She is expected to replace frigate HMS Montrose in the region. HMS Dauntless
The Royal Navy has rejected suggestions the decision to send the destroyer to the area was a riposte to the heightened tensions over the islands' sovereignty and said the ship's deployment was long planned.
William's posting - as part of a crew of four RAF personnel - has been similarly defended by the Ministry of Defence as a "routine deployment" for a Sea King pilot which forms part of a "normal" squadron rotation.
But it has been branded a "provocative act" by Argentina.
David Cameron and Argentine president Cristina Fernandez have previously accused each other of "colonial" behaviour, while Argentine official Sebastian Brugo Marco last year said the country could not ignore the "political" implications of William's deployment.