It's been over thee years since Madonna last graced us with her musical presence (she's been far too busy directing, rather than acting in bad movies) and in that time a few real contenders for her pop crown have emerged - so her return to the pop arena marked by a massively hyped half-time show at yesterday's Super Bowl was her opportunity to show the likes of Gaga and Rihanna who's boss. But after seeing her show I doubt either of them will be losing any sleep.
It was unfortunate she opened her 12 minute set with her classic 1990 hit Vogue because it shined a light on the fact that where she once innovated, over twenty years later she looked like she'd finally run out of ideas.
Her entrance, atop a huge gold throne whilst being pulled along by semi-naked gladiators looked ever so familiar. Probably because Kylie had already done pretty much the same thing on her Aphrodite Les Folies tour last year. Wasn't it Kylie that used to get accused of ripping Madge off? Hmmm.
Still, it was nice to hear a Madonna classic from yesteryear. Literally. She didn't even bother to disguise the fact that she was miming to the original vocal. And unless my ears are very much mistaken (or she has the uncanny ability to recreate studio vocals in a live arena) she lip-synced the entire show, including her new single Give Me All Your Luvin. Maybe it was because of all that jigging about? Except that wasn't much cop either.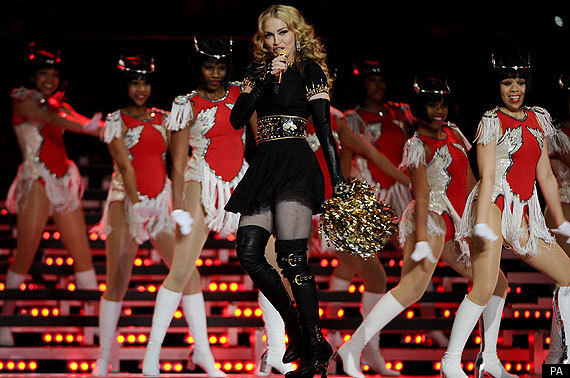 Yeah, yeah - I know she's 53 and all that but that's precisely what was wrong with the dancing - most of the time it just looked plain wrong seeing the grandma of pop trying to be 'down with the kids' whilst sitting on top of a member of LMFAO (errrm, who invited them?) or shaking her poms poms with Nicki Minaj and M.I.A. She definitely looked like she had a case of the Britneys most of the time and nearly came a cropper at one point when her towering heels (almost) got the better of her.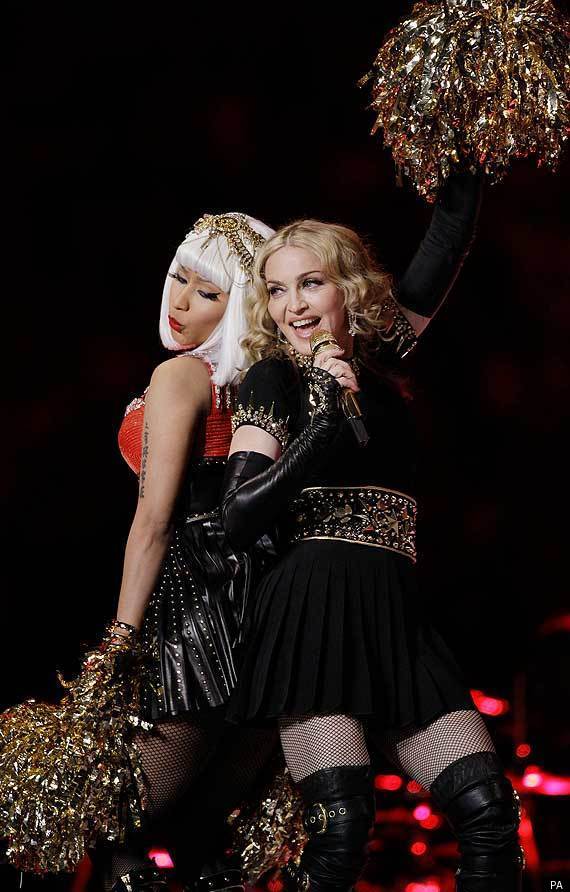 The staging and the visuals were stunning, as was the Givenchy haute couture she was decked out in - but none of the super-sized spectacle managed to distract from the shortcomings of the show's main attraction - Madonna.
Last week she told fans to "scrape the money together" for the &pound160 ticket cost for her forthcoming tour because, in her words, she's "worth it" but on the evidence of her live comeback, I'm not convinced.