It's only when you finally arrive at the paintings of Freud's mother that the tension lets up.
Here, in a small room midway through the exhibition at the National Portrait Gallery, she suddenly appears: Lucie, painted in the early 70s, lying in a white gown by an empty chair, lost in a moment of grief.
The tenderness of The Painter's Mother is startling, and in the context of this broadly chronological show, represents a turning point for Freud. From this point on he ceases to be merely a gifted painter finding his feet (literally – he goes from sitting with an easel to standing) and starts to evolve into how we knew him before he died last year: one of the truly great painters of our generation.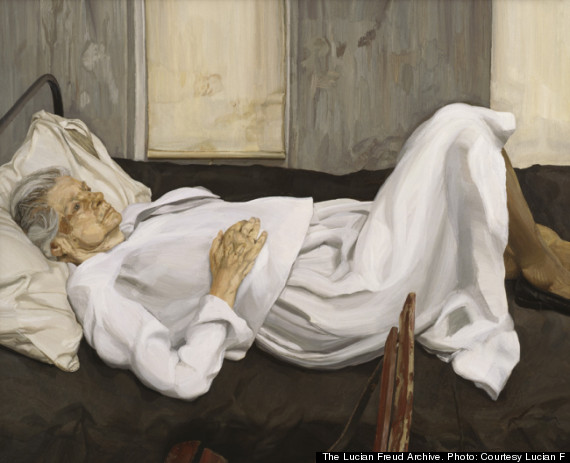 The Painter's Mother Resting, 1976 Private Collection, Ireland
Until that point in Lucian Freud Portraits the atmosphere is a little unforgiving. The early portraits of Kitty Garman - Freud's first wife – in particular are almost rigid with tension. She stares intently ahead, in some she holds a flower, but in all of them, love seems curiously absent - either between artist and his subject or the artist and the art form.
The formality of these early 1940s portraits contrasts brilliantly with the next room where, by the mid sixties, Freud is in full flow, painting full-figured nudes in such intense detail they seem shocking even now.
Muscular and tense the models, for all their explicitness, are palatably sexless. It's as though Freud has arranged human limbs and torsos like another painter might arrange a bowl of fruit: preoccupied solely with their geometry and shades.
Most of these paintings from this early period appear fraught with unspoken tensions between Freud and his subject or Freud and himself. Hotel Bedroom, a 1954 painting of Freud with his second wife Caroline Blackwood, is as a bleak a representation of a marriage as one could imagine in a single painting.
There is one painting from the first half of the show that cuts through the gloom somewhat, and that's Large Interior, Paddington. It depicts Freud's daughter Ib Boyt lying in a foetal position on the paint-splattered floor of her father's work room, a large plant towering about her. The perspective of the painting seems oddly out of kilter. It's a touching portrayal of Freud's struggle to reconcile his family life with his work.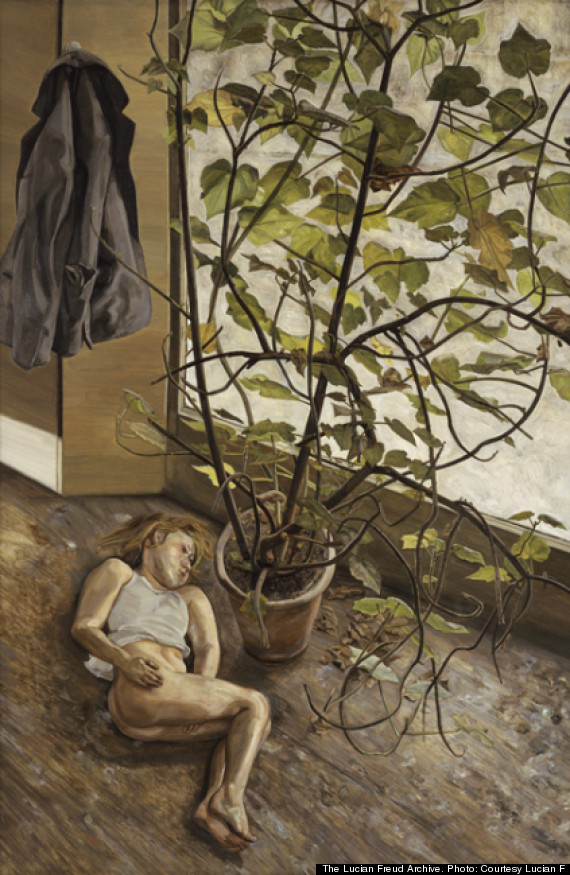 Large Interior, Paddington, 1968-9 by Lucian Freud Museo Thyssen-Bornemisza, Madrid
But it is in the later parts of the show, post-Lucie, that Lucian Freud Portraits transforms from an interesting retrospective into one of the must-see exhibitions of the year.
Separated into two rooms are two of the great muses of Freud's later life. The first is Leigh Bowery, the huge-limbed Australian performance artist whom he painted in the mid 90s. Freud mines the minutiae of Bowery's body – every crevice, every blemish – and not for the first time, the alchemy behind Freud's portraits becomes a source of endless fascination. What did they talk about? How did the dynamics of a human relationship work as Freud explored his subject in such brutal intimacy as this?
In the next room, she suddenly appears: a glorious riposte to every beautified renaissance portrait or modern day, airbrushed magazine cover you'll ever seen. Big Sue Tilley, the first of Freud's models that he openly identified by both name and occupation. Benefits Supervisor Sleeping, one of Freud's best-known (and expensive) portraits, is also one of his most vulnerable and humane.
She's strangely beautiful is Sue, fast asleep with her face in a bust-open old sofa. In Freud's strokes her infeasible bulk takes on a sensuality absent from the other portraits, including those of his wives. She is a person in her own right, not just a specimen being examined under Freud's microscope, and she is the undoubted highlight of the show.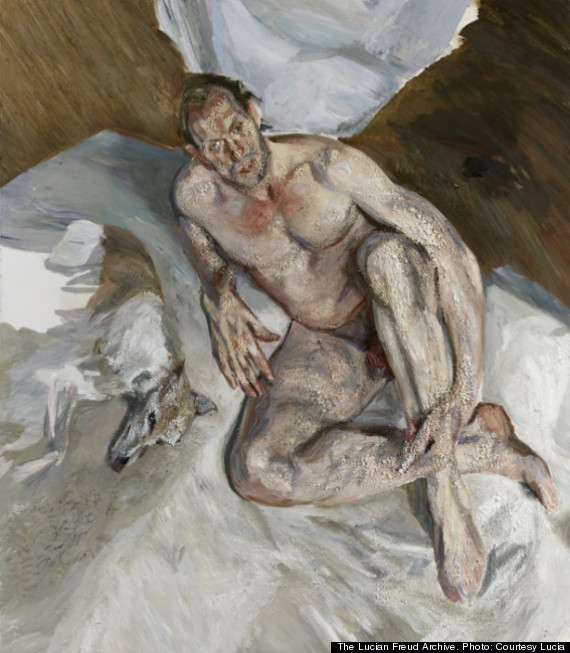 Portrait of the Hound, 2011 by Lucian Freud Private Collection, courtesy of Marlborough Fine Art (London) Ltd
But Lucian Freud Portraits has one more unmissable moment up its sleeve at the end, and that is last year's Portrait Of The Hound. Depicting Freud's assistant David Dawson looking down at his pet dog, it is the final, unfinished canvas the 88-year-old put his brush to before he died.
This show was never supposed to feature a painting of such moving finality. It's a tragedy that it does. Freud was involved in the planning from the very beginning, and, had he survived, he would have seen for himself how this show will disturb, surprise and most of all move the lucky ones who get to see it.
Lucian Freud Portraits at the National Portrait Gallery, London from 9 February until 27 May 2012.