One of the UK's biggest teaching unions has taken the unprecedented step of petitioning for the release of two imprisoned union leaders in Bahrain.
Jalila al-Salman and Mahdi 'Issa Mahdi Abu Dheeb, of the Bahraini Teachers Association, were jailed as punishment for their role in education protests last Spring.
Now the NUT has written to the British Ambassador in Bahrain urging him to attend their appeal hearing and help secure their freedom.
NUT general secretary, Christine Blower, told ambassador Iain Lindsay she was "particularly concerned" about the appeals after recommendations by an independent commission into their cases were ignored.
The Bahrain Independent Commission of Inquiry had previously said Bahrain should "drop outstanding charges against them."
Both were arrested in connection with the BTA's demands for strikes. According to Amnesty, they faced a range of charges, including "inciting hatred of the regime" and "attempting to overthrow the ruling system by force".
al-Salman, a mother of three, had her house raided and she was reportedly taken to the Criminal Investigations Directorate in Manama, where Amnesty International believe she was beaten and held in solitary confinement.
She was released on bail last August but sentenced to three years in prison by the military court in September. Mahdi, meanwhile, was sentenced to 10 years in prison.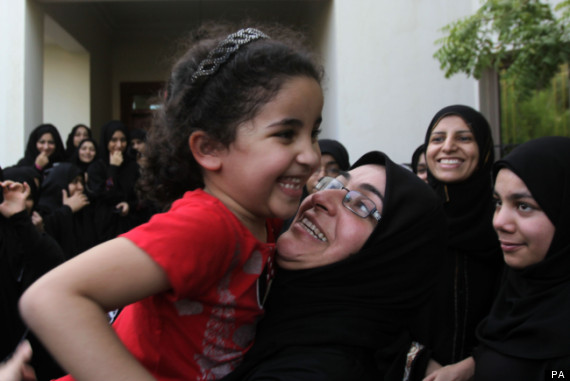 al-Salman, right, lifts up her daughter, Hawra Shouqi, 5, outside their Sehla, Bahrain, home Sunday, Aug. 21, 2011, shortly after being released from prison.
Amnesty claim both of their rights to a fair trial have been breached, saying there is no evidence the pair "ever advocated violence".
"They appear to have been targeted solely for their leadership of the BTA and for peacefully exercising their rights to freedom of expression, association and assembly. As civilians, they should have not been tried and sentenced by a military court.
"Amnesty International believes they may be prisoners of conscience."
Blower urged British diplomatics to attend the appeals and to visit Mahdi in prison "which may improve his security".