We always look forward to Grazia magazine's Big Fashion Issue. A bumper glossy that launches to coincide with London Fashion Week, it's everything we love from the fortnightly title, but just, MORE.
This season however, there's a bit of a twist. In an exciting exclusive, Huffington Post style watchers are getting the chance to vote for your favourite cover, choosing between two different shots.
So which will get your vote? Here are the two options, the first from a shoot in New York - think clashing prints, think bold colour and think three hot London designers - the second, from London - all about pastel prettiness, ladylike lace and Dolce & Gabbana. The image with the most votes will be used to front the final issue - which hits newsstands on Friday...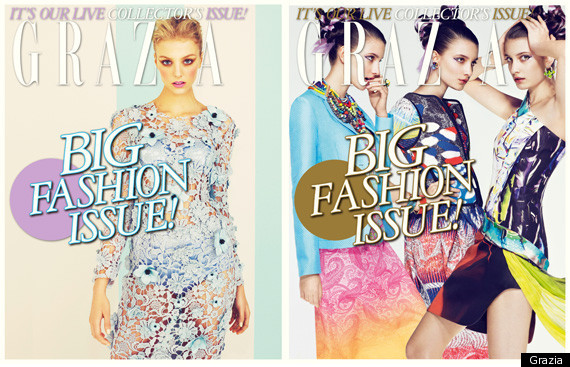 To help you decide, go behind-the-scenes on the two competing shoots in this video below:
Don't delay, it's time for fast decision making! The cover goes to print at 4.30pm today, so head on over to graziadaily.co.uk to cast your vote, or tweet your favourite to @grazia_live using the hash tag #GraziaGoesLive.
We can't wait to see the final result!